Accompaniment Makes all the Difference
Posted on May 6, 2019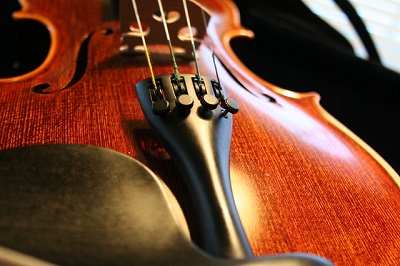 I know that it's been a while since I last wrote about progress. I'm coming up on the 4 month mark, and while it's been a bit more of a struggle to practice this last month, I haven't given up. Nor am I frustrated or even disinterested in playing violin – really it's a matter of time and energy level after dealing with work.
All excuses aside, while I haven't been as consistent in my practice as I want to be, the important thing (as I see it) is that I have not stopped practicing by any means. In fact, I made a discovery last night about my instructional series of choice – Essential Elements for Strings – Book 1 with EEi: Violin – that has fueled more excitement for me.
Just by accident, I learned you can change the type of accompaniment with the online playback tracks!
By default, all the tunes I've played using the EEI online site have a metronome as the backing. For some reason, probably by accident, I clicked the drop-down and discovered… there's actually a variety of instrumental accompaniment for each song.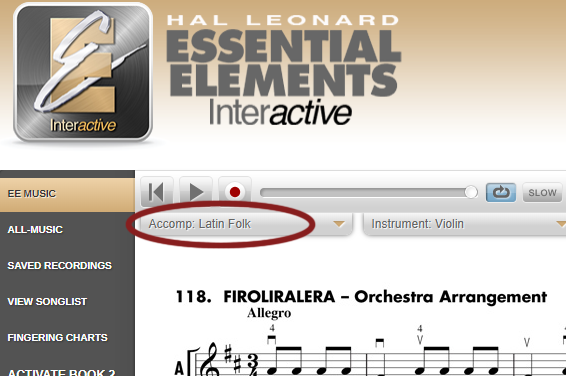 It makes a huge difference to play the Banana Boat Song along with a Reggae jam, and Firoliralera with actual Latin Folk backing it! And while I'm still working on learning these songs, and have been practicing them probably longer than I really should have, my enjoyment of practice skyrocketed to have something more than just a metronome keeping the beat along with me.
I love that the songs have a variety of accompaniment styles to choose from, even some you wouldn't expect. Dropping a classic rock vibe behind Song for Maria, for example, completely changes the feel of the tune. Some styles are a bit more suited to the song than others, but having the option to change it up is amusing and keeps you on your toes.
I really wish I'd known about this sooner – here I've been practicing with this series for over 100 songs and almost 4 months and I never realized this was an option! Silly me! Now I really want to go back and revisit old tunes just to see what the options are!
I know this is going to make practice a lot more exiting forthcoming, and is just another reason why I'm really enjoying EEI.
Leave Your Thoughts!
Archived Comments