February 2020 Fiddle Progress Report
Posted on February 15, 2020

Starting this month, I'm doing Progress Reports a little differently.
Since I've hit my year mark last month, I really don't feel like there's a need to keep counting the months the way I did last year. It's a little odd to be like: "One Year, One Month." But I still want to sit down and think about things each month on the 15th like I've made a habit to.
The Month In Review
First of all, I've stuck to my Fiddle Focus practice plans each week, and I feel like it's a huge improvement to structure my practice time. I cover more during practice. I look at the clock less — since the mindset is no longer "I need to practice for 30 mins," but rather "I need to complete as many things as I can on my focus list – all of them, if possible." And I can set aside a week to really focus on a tune if I feel I need to do better with it.
My consistency with practice has been really good, especially since the beginning of February. I've promised myself a little reward at the end of this month if I don't miss a day of practice — not quite sure what it will be yet. I'm actually looking into programs that can turn simple sheet music into MIDI, because it helps me to be able to hear a song along with trying to read sheet music. Maybe that's what I'll pick up.
I've gone back to reviewing reading notation using EEI again. This week focused on the D string, which is the very first string in that method. Next week, I'll add another. I'm remembering it fairly well – at least on one string – and I feel like I'll be able to pick it up again if I keep setting aside time to focus on it.
When Is Challenge Too Much?
Now here's the tricky part. In returning to the old exercises in EEI, I've learned that I play them quite well. I mean, they even sound pretty good. Especially compared to my attempts at some of the tunes I've floundered and struggled with in AFM and at Bluegrass Daddy.
I love Bluegrass Daddy, don't get me wrong, especially when there's a random tune I suddenly wanted to learn, and he has a lesson just for it! It also turned out that As the Deer was a pretty simple tune to learn, and I've made more progress on it than other tunes I had practiced for weeks before. But it's hard to tell how difficult one of the "beginner" tunes is there until you try it. As the Deer has been great, while O Holy Night is still a terror. XD
I'm starting to recognize one thing: Maybe I've been pushing myself to play songs that are beyond my ability range. And because of that, I'm struggling to get a decent sound, even half a year after starting to work on them.
Back when put the fiddle down for a few months, I returned (in August I believe) using the American Fiddle Method. I did this mostly because I'd paid for an account there – you have to pay for a three month block – and it felt like a waste to never have used it.
In retrospect, it was a good thing because it got me into playing "fiddle music." I learned about the A Part and the B Part. I learned how to memorize a tune. I learned quite a bit, and I think the method is great!
BUT.
I also think I was biting off more than I could chew. I jumped from EEI, which was quite simple exercises, to full on fiddle songs. And I lamented day after day how I did a little better, but just couldn't get a good sound. Honestly, that hasn't changed in all these months.
I can play Cripple Creek (sometimes), Angelina Baker, and Cindy. But I don't play them well, especially not at speed.
You might say, well, it's good to challenge yourself! And that's true. You don't want to only play things that are easy for you. But there comes a time that you have to be real with yourself and realize you don't have the basic foundations down well enough to tackle the challenges you're throwing yourself.
Focus on Foundation
That's part of the reason I was drawn to Julia's Violin Academy. I knew I needed things like scales and arpeggios, but didn't know where to start. I have learned so much from this method – including structuring my practice! – and those foundations have been very worthwhile to me.
However, JVA is also pricey at nearly $40 a month. And a lot of the benefits that come with this online school are the social interactions through the Facebook group. There are live lessons, practice sprints and group practice. If you're involved in the community, then the price may be well worth it.
This is great if you have the courage to get on a webcam (which I don't even own one!) and interact with a group. But I'm not one of those people who can (I might be able to do one-on-one but not a group). Not to mention, often things happen when I'm at work, or at odd hours, since they are accommodating people world-wide.
So while the online instruction is really good, I'm starting to consider something less costly. Especially since you can't really download the videos, and there's no play along MP3 tracks like at other sites. They do provide PDFs of each section, but I need to hear things as well as look at them. And not having at least a backing track or a MP3 download is difficult – I was spoiled by EEI.
Irish Fiddle Basics – Shifting Methods
All of that background just to lead up to this announcement! Sometime this past week, I discovered a set of online lessons for the beginner level specifically for Irish fiddle at the Online Academy of Irish Music. This is EXACTLY what I've been looking for!
There's a 14 day free trial to see if it's what I hope it is. Not only that, but for $20 a month, you get unlimited access to all the academy, which includes many more instruments!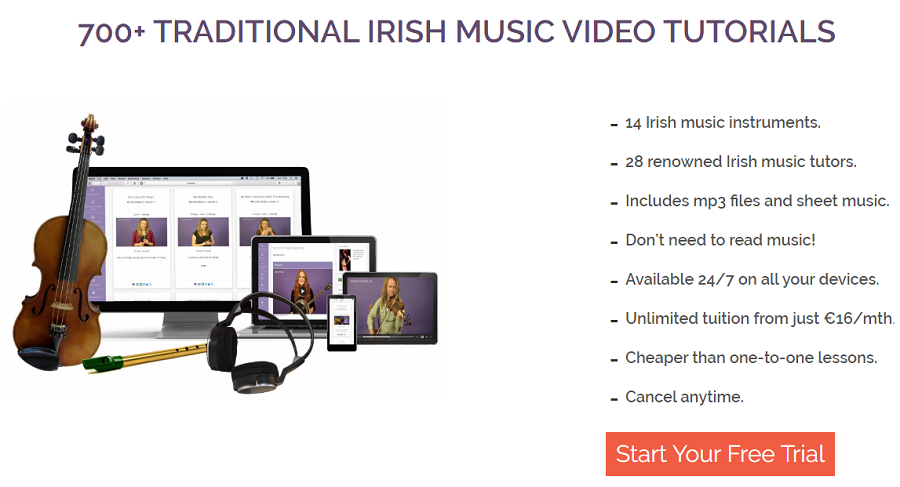 I do own a mandolin, guitar and tin whistle. So maybe one day I could dabble in some of those classes, too.
But the coolest thing is that there's fiddle classes beyond just the basic.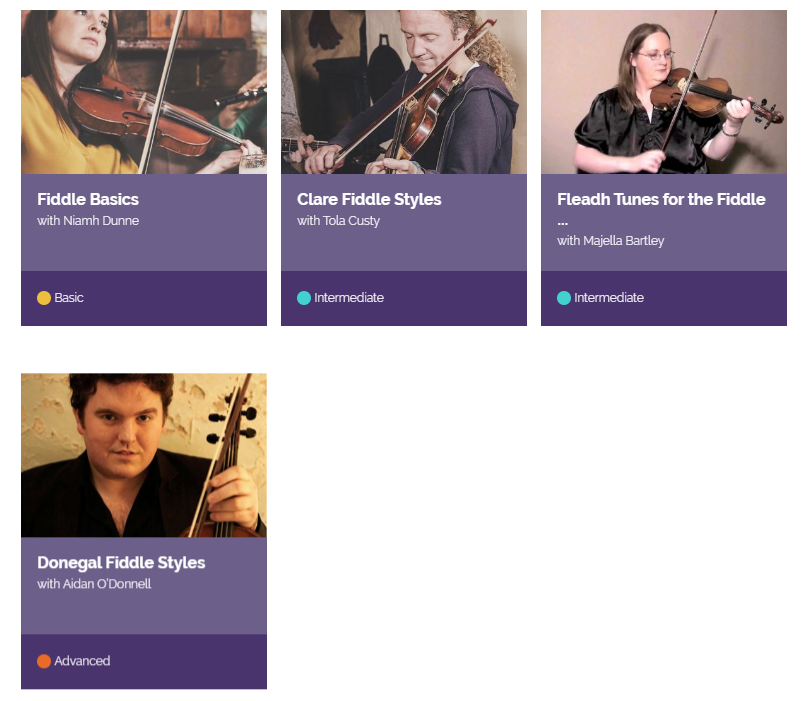 So this would likely take me all through my progression… if I ever could reach intermediate, of course!
I watched a sample video, and was impressed at the string overlay they use on the left hand side. I like that they provide the notation letters on the strings, which helps reinforce my desire to learn not just by ear but by note.
And, to top it off, sheet music and MP3s are there to download.
I'm really excited about diving into this new method. I'm going to start the trial probably tomorrow, just to look around and start structuring next week's Fiddle Focus around these new lessons. For now, I'll see out my current Fiddle Focus. But next week, I hope I'll finally be jumping into the genre that I've wanted to from the start!
Leave Your Thoughts!
Archived Comments