Replacing a Violin Chin Rest
Posted on January 30, 2019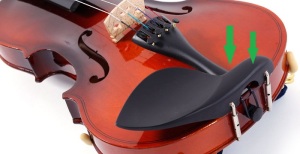 Once I had the new shoulder rest and spent some time with it (one practice session), I already knew that wasn't enough to fix the comfort issue of my fiddle. That's when I started looking at replacing the chin rest.
The chin rest that came with the violin rested mostly to the left of the tailpiece, but also fit over the top of it. I have a short neck and rather round face, so this caused a lot of comfort issues for me. Especially the taller part that fit up over the tailpiece. You can see a picture of it to the right with the problem area pointed out.
I guess this shape works for some people, but it certainly didn't work for me. I knew I needed something as flat as possible, so I went on a search across Amazon, and finally came upon the Conrad Gotz ZK256 chin rest. It was somewhat hard to find, since the description doesn't have the word "chin rest" in it for a search. It was also more expensive than most chin rests I saw, and only had one review, which made me antsy. But the picture included in the review is what sold me. It was a very flat and to-the-left chin rest, which is what I was looking for. So, I took the chance and ordered it.
Once I'd chosen the chin rest, I had to figure out how to take the old one off and put a new one on. This lovely video taught me all about that:
Taking the old one off wasn't so hard, despite the fact I didn't have a key tool to do it. I did have a tiny screwdriver that just fit the bill.
Getting the new one on was a little trickier. I learned that I had to unscrew both ends of the chin rest to full length, then tighten them together again, for it to all come together. It's hard to explain, but would have probably been easier to do if I had the proper tool.
In the end, I managed it and I'm quite happy with the feel and look of my new chin rest. I'm still adjusting things between it and the shoulder rest, but my grip on the violin has very much improved, helping me work through tension issues I've had with my left arm.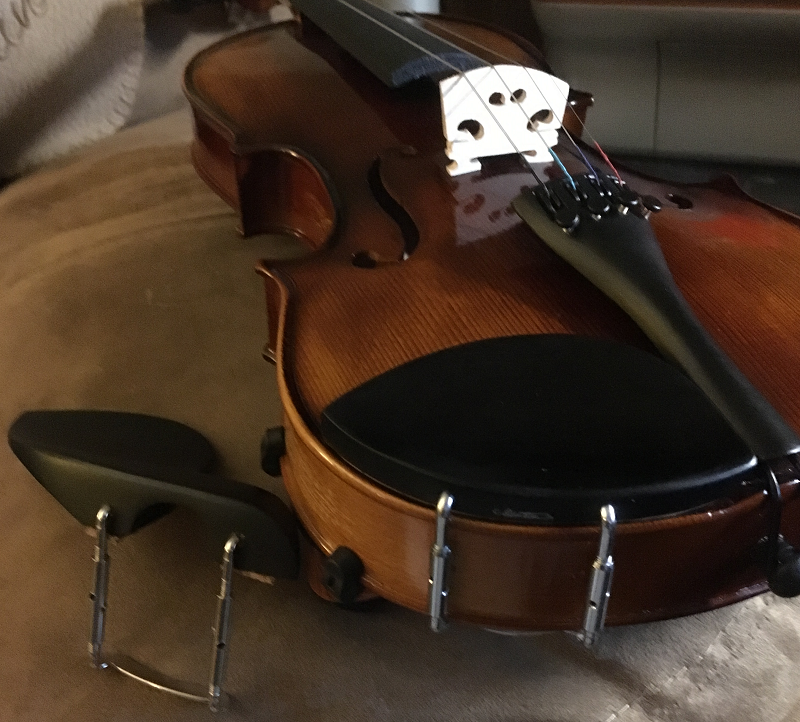 Now that that was all sorted out, it was time to learn how to change the strings and get the new bridge on my fiddle!
Leave Your Thoughts!
Archived Comments