The "Hill" Special Steel E String
Posted on February 6, 2020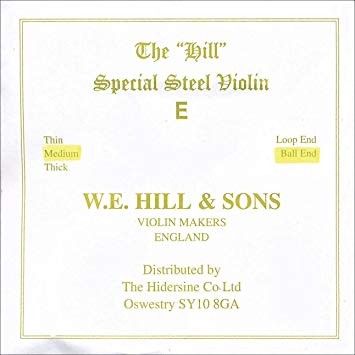 When it comes to strings, it seems fiddle players are always on the lookout for that perfect E string in particular. In fact, it's not unusual to switch out the E string from whatever set they're using for one that they enjoy the sound and playability of most.
I still don't have the ear that a more advanced player does when it comes to sound and color. But I did recognize that the E on my Fiddlerman Master seemed to be really shrill to me.
I'm not absolutely certain what strings the instrument came with – Fiddlerman says they're "whichever strings sound better on the specific violin (most commonly Kaplan Amo or Thomastik Vision)." But I'm totally down for experimenting with other strings going forward.
I'm a member of several fiddle and violin groups on Facebook, and someone was discussing having a shrill sounding E string. Several folks piped up and said they really love the Hill Special Steel E string in particular. And looking at reviews on Amazon, people really liked it there, too.
I checked out the price – it was only $6.38 + shipping at Amazon (no Prime option). I've seen it cheaper at places like Southwest strings – $4.89 + shipping – but overall, it's an inexpensive string no matter where you get it. So I figured I had nothing to lose by trying it.
I've been using it for about a week now. Again, I don't have the developed ear that more veteran players do, but I do feel like it's fixed the shrillness issue that used to make me cringe when playing scales along with the playback videos. I spent time breaking it it the first few days – it really settled and stretched quickly, but that could be my fiddle helping it out, too.
Overall, it's a nice E string for a good price. I might poke around to see what others sound like, but I'm content with the sound of this one. Far better than the shrill I had before!
Leave Your Thoughts!