I wrote about this over at Spot of Mummery, but this was something I was super excited about last week. From time to time, FFXIV holds screenshot contests that you can enter over at Twitter. If you win, you get to choose from a unique set of glamour items including hair and barding that you can only get through these contests.
I entered the Halloween contest about this time last year, but sadly, wasn't chosen as a winner. This year, they did a sightseeing screenshot contest.
I knew that what I really wanted was the Noble Barding for Amon. So I thought about places to take screens that were related to Allagans – Crystal Tower was obvious – and chose something I didn't think too many other people would screenshot.
Azys Lla.
Ironically, in the patch the 5.4 patch, we actually did fulfill my wish – I had no idea it was coming! I'm curious as to if that had any part in winning this contest, though I know the website says the shots are randomly chosen.
ANYHOW.
Last Friday I logged in to an in-game mail.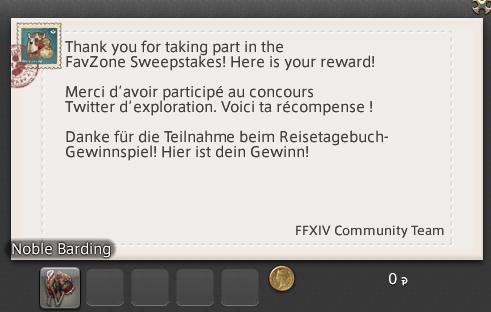 And sure enough, I had won! I'm pretty excited because this is the first official contest I've won. And the barding is a perfect match for Amon!
Now, I might just need to re-color his chocobo. The last time I tried, Mummery ended up chocolate brown rather than a shade of red, and I just left him that way with a "close enough."
Update: I actually did just that and got the wine red chocobo I wanted!