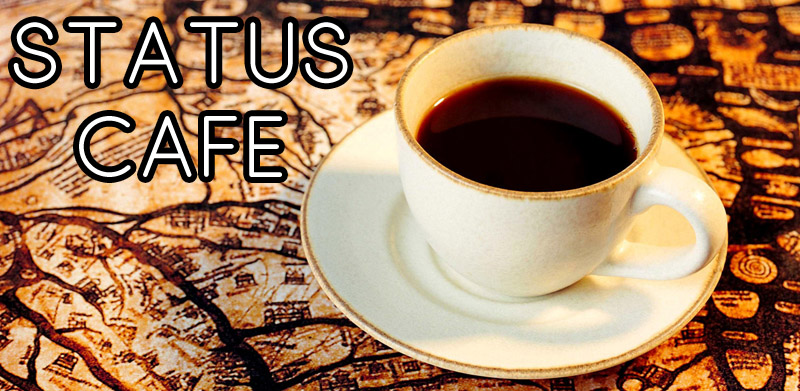 Blaugust 2022 – What is Status Café?
Posted on August 13, 2022 by Aywren
Status Café is a free little web service that's meant to be used to post a short status – this could be what you're watching, what you're playing, updates to a project – whatever you want it to be.
It works similar to a tiny version of Twitter without the interactivity. Though people can't reply to your status, they can view it. You can also place a widget on your blog or site or follow via an Atom feed.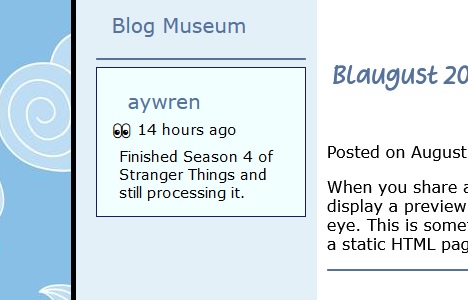 The widget is where Status Café really shines. As you'd expect, it automatically updates whenever you write a new status. So this gives you a place on your site that you can quickly update on the fly without needing to jump into code or an administrator panel. It's great for a little block on a sidebar and can be customized through CSS if you'd like.
Status Café also offers a bookmarklet – you can create a browser bookmark that launches the status updater when you click it. This means you don't even have to go to the Status Café webpage to make your updates. I love the bookmarklet and use it all the time to update my status!
What to put in a status? Anything you want!
I usually use it for tiny things that I wouldn't normally share on Twitter. Random thoughts, things happening IRL, gaming things, shows I watched, books I read. It's like a little spot on my blog that makes it feel like an actual person is running the site.
This is especially great for static HTML sites, but can be used anywhere that allows for the widget code. It's all for free, so see if it's a tool that can add something to your site!
Comments