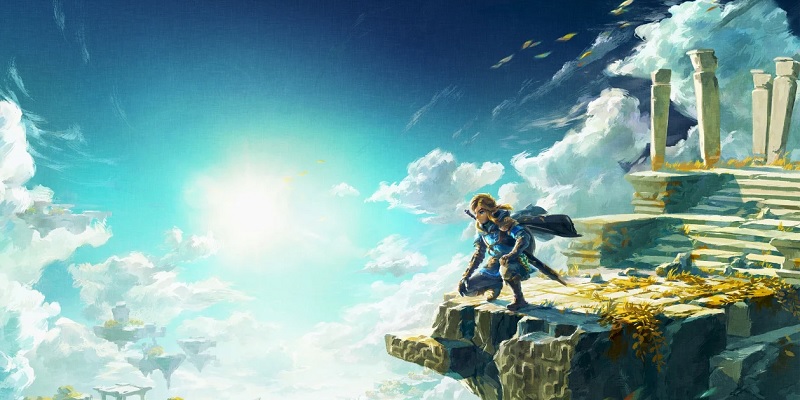 Yesterday's Nintendo Direct and My Switch Backlog
Posted on September 14, 2022 by Aywren
Now that I've got my Steam backlog under somewhat control, my other goal for this year is to get my Swtich backlog in better shape. I've been working on this somewhat by weeding out a bunch of free games that a publisher was giving out last Christmas – I should have known better than to have picked them up. Not a single one has been worth playing or keeping so far.
But that doesn't mean I'm actually spending quality time with my Switch, which still bothers me.
Yesterday's Nintendo Direct really hammered it home, though. There's so many games I'm interested in picking up. But that's dampened by the fact that there's way too many I haven't finished.
For example, I really like what I see with Ocotpath Traveler 2 – the characters seem more interesting to me than the first Octopath Traveler. While I own the first Octopath, I've only played through one of the storylines so far – before I buy another, I need to spend time with the first!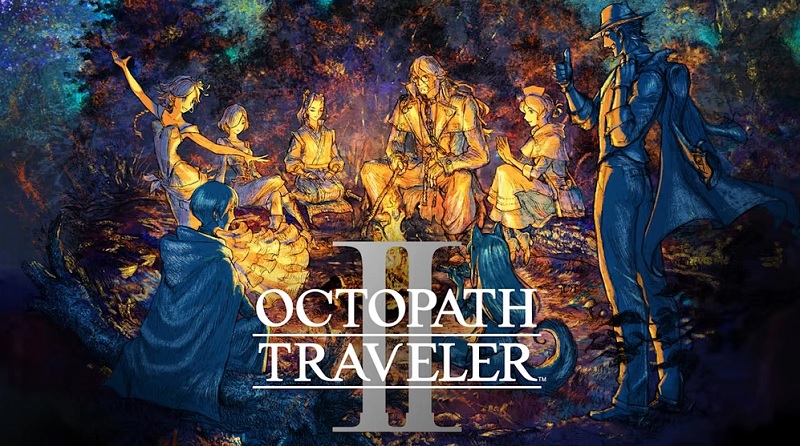 That's pretty much the story with most of the games I'm interested in.
Fae Farm and Harvestella look great – let's not even talk about Rune Factory. But I have hardly touched My Time at Portia, Grow: Song of The Evertree, and Yonder: The Cloud Catcher Chronicles – all games of a similar vein.
The new Pokemon is coming out this year, but I still haven't finished Pokemon Sword, Pokemon Legends: Arceus, or even Pokemon: Let's Go, Pikachu! Not to mention I just got my key for TemTem, too.
Ironically, though I was a huge fan of the original Harvest Moon, I have never played a Story of Seasons game. So I love that they're bringing them out for the Switch, giving me a chance to play older games I never have before. I can't remember which one is coming out soon, but I picked up Friends of Mineral Town (I've heard so much about it), and have yet to play it.
Tales of Symphonia looks great! But I own a Tales of Vesperia that I've never played. Oops.
Romancing SaGa Remastered sounds fun, but I haven't touched Romancing SaGa 2, Romancing SaGa 3, or SaGa Frontier yet.
The Legend of Zelda: Tears of the Kingdom is a big one with a lot of hype. I'm over here thinking that I still never finished Breath of the Wild or even Link's Awakening. Yikes.
As much as I was interested in Various Daylife from the trailer, after reading about it and seeing it has a fairly negative review on Steam, that's one less game I think I'll be worried about. It's a shame because it seems like it could have been cool. I just have too much else to pick up a mobile port that isn't engaging.
Importing a Nintendo Library to Playnite
For all this bellyaching, I have started to work on organizing my backlog and figuring out what I have. I've been using Deku Deals to keep up with sales and the games I own, which has worked great. I still highly suggest the site!
However, since I've been consolidating my game libraries into Playnite lately, I wanted to put my Nintendo games there, too, just to be consistent. It also gives me a place to quickly search to make sure I'm not picking up duplicates between Steam and Switch.
I discovered that there's a way to import Nintendo libraries using your Nintendo ID account. You just click F9 while in Playnite, go to the Libraries section of Browse and find the Nintendo library integration.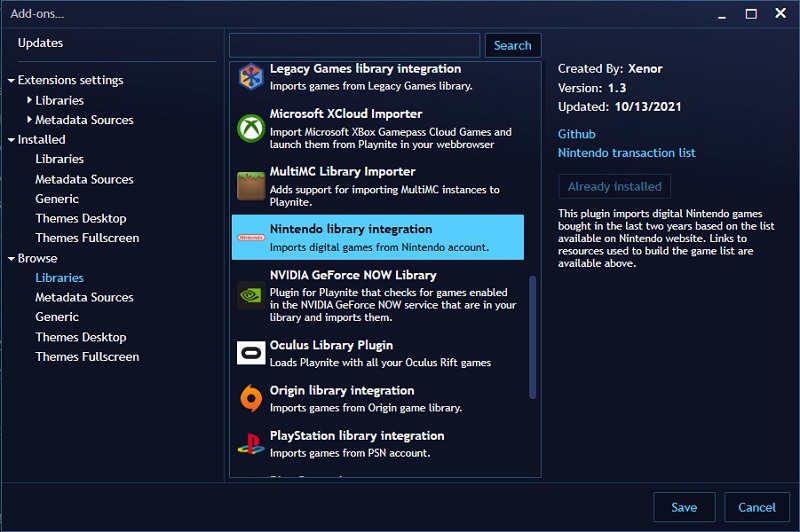 I read somewhere that this will only import the games you've purchased/downloaded for the past two years. I can confirm this seems to be the case. It even picked up games from my WiiU and DS that I downloaded before the stores shut down.
I had to manually enter the rest of the games, but once I figured that out, it wasn't that hard to do. Thankfully, my backlog isn't so big that something like that was impossible (like it would be with Steam).
So now, I have my Switch backlog in Playnite where I can update and keep statistics. The only thing Playnite can't grab is playtime for Switch games, which is fine. I just want more of an idea of what games I own and the percentage I've played.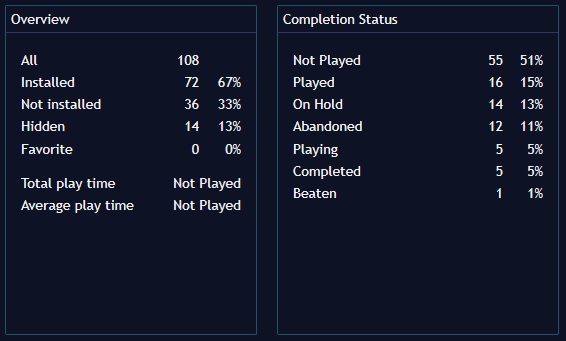 You can see a lot of "abandoned" games on this list because those are the free games I mentioned before. Basically shovelware. I'm really trying to find some that are worth keeping in my library, but so far, I haven't.
I have a lot of games that I've marked "on hold" too. Those are games I started but haven't made any progress on in a while.
Overall, I have not played 51% of the games I own. There are a few outliers in that, as I noted, it did pull in a few 3Ds and WiiU games – but those were all games I've played in some capacity.
It also counts DLC as separate games. For example, Graveyard Keeper – I own several DLC for it, which I haven't played yet. So that one game is counting as like 4 games in the stats.
But overall, it's a good measurement tool that I plan to continue to use going forward.
I just need to determine which games I want to focus on – should I finish the ones I've already started or work on the ones that I've not gotten very far into, but am interested in a sequel?
Any thoughts on how to deal with a Switch backlog of greatness that is just too big to choose what to play?
Comments