Micro.blog – Blogging on the Fediverse (And Everywhere Else)
Posted on March 2, 2023 by Aywren
So, before I start this post, let me note that no – I am not moving this blog again. Despite the fact that I already have an established blog, Micro.blog is just too impressive to pass up for me – especially if you're a blogger who is putting down roots in the Fediverse.
What is Micro.blog?
Micro.blog (Click for Welcome/Info Page) is a streamlined blogging platform that is smack dab in the middle of the Fediverse. As its name alludes, you can draft everything from short micro posts (think Tweets/Toots) to full-length blog posts.
With an account, you can connect your own domain name, and I haven't seen anything like a limit to bandwidth or media storage.
It's certainly geared towards hobby bloggers and not businesses, which is something I love. Anyone who has an account there is contributing to the platform and wants it to thrive – the community is quite dedicated and welcoming in my experience.
You might be saying – yeah, so? What makes it different from WordPress or Blogger?
An Innerconnected Blogging World
What makes Micro.blog such an exciting platform to me is that it connects to so many other platforms. Firstly, it makes use of the ActivityPub – which is what powers and connects Fediverse applications – such as Mastodon.
This means that Micro.blog posts automatically flow into the Fediverse, just like Mastodon toots do. If someone on a Mastodon instance follows your Micro.blog, they will automatically receive your posts in their timeline when you publish. Likewise, you can follow Mastodon accounts (and any other type of account using ActivityPub) from Micro.blog.
This essentially means that you can treat your Micro.blog dashboard like a Fediverse social media account if you choose. Posts from those you follow across the Fediverse will appear there. It's crazy, but you can also follow Tumblr accounts!
Add to that very robust cross-posting capabilities – you can hook your Micro.blog into your WordPress (self-hosted, requires plug-in), Tumblr, Twitter, and Mastodon. Every time you post to your Micro.blog, this will automatically push an update to all the sites you've connected. You can also select which sites receive the content when you go to post – so if you want something to go to Tumblr but not Mastodon, you can do that on a per-post basis.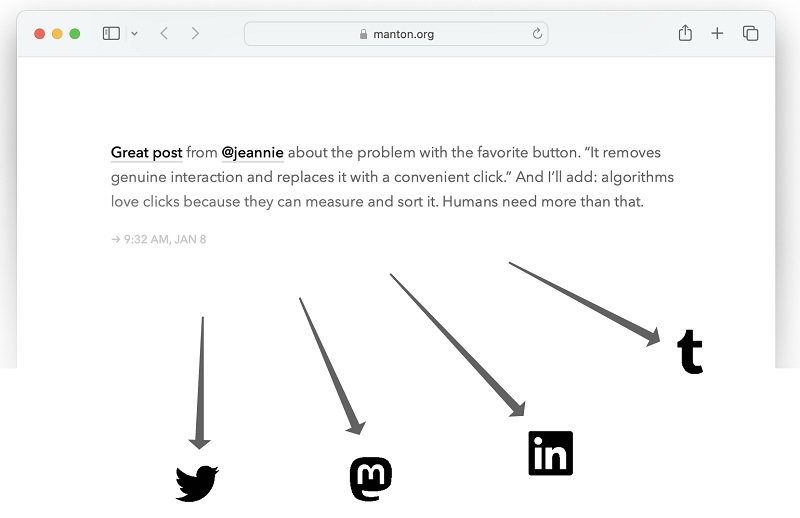 Basically, you can hook into all these other platforms and social media sites, while your blog is based in the Fediverse world.
On top of that (yes, more), you can import RSS feeds from outside sources. When those feeds update, they create an update on the Micro.blog timeline, alerting your followers the update.
For example, I've hooked this blog's RSS feed into my Micro.blog. Whenever I create a new post on this blog, it feeds into my Micro.blog as an update on the timeline there. People who are following my Micro.blog can then see the update to this blog, and leave comments right on my Micro.blog timeline.

And the same for any RSS feed you want to pull in – WordPress, Tumblr, etc.
Basically, Micro.blog has the ability to connect everything together in a crazy good way.
That Development Team, Too!
If all this wasn't already exciting enough to someone like me who is heavily into the Fediverse now, I've been extremely impressed by the small development team who has dedicated their time to making Micro.blog grow and shine.
Not only are they extremely active on the platform with their own blogs, but they often interact with users, listening to feed back and even implementing suggestions.
For example, Jason and I were discussing some initial trouble I had with the Web authoring tool of Micro.blog. It did not have a spell check, and while I could get around the Markup and HTML needed to author there, the lack of spell check was a hinderance to me. I had to write my posts in Word (which I do anyhow for this blog) and then copy-paste to Micro.blog. It worked, but it seemed like an extra step – all I needed was a spell check on the Web tool, and I could draft directly there.
To my surprise, the awesome dev, Manton, commented on our conversation - without us pinging – he just saw it and responded. Then a few days later, the spell check feature was implemented for the Web authoring tool, and I was beside myself with joy!
I expressed to Manton how much this feature would improve my experience, but never did I imagine it would be implemented only short days after that conversation!
That's just one example of many in the short time I've been on the site.
Plug-ins and Themes
Talking about development, it's awesome to see the number of plug-ins and themes that the community has contributed to the platform. Unlike WordPress.com, you don't need a business plan to use the plugins available to Micro.blog. Every account has access to all the things!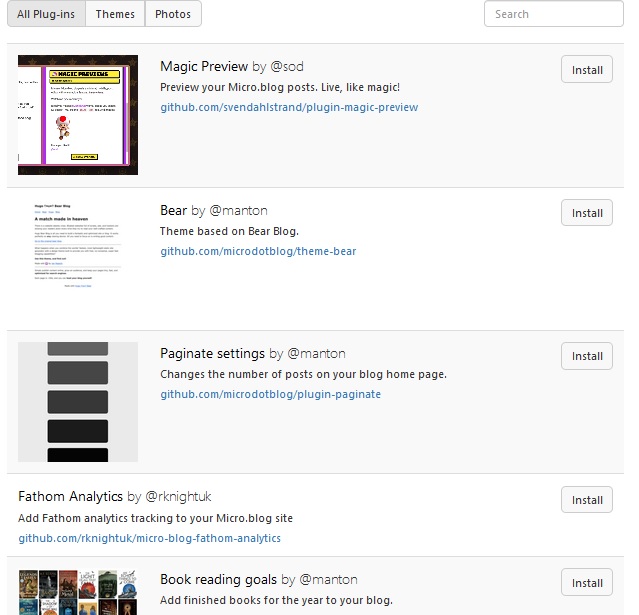 You can install themes from the plugin section that run straight out of the box. If you're a little more handy with code and want to tweak under the hood, you can do that, too. Just import a theme to your blog's custom themes section and tweak to your heart's content. I've altered a custom theme for my Micro.blog to give it my own slightly customized layout, for example.
Also, you can get a free test version of your blog so you can try out your changes before you roll them to your live blog.
Launching a Blog at Micro.blog
Micro.blog allows for imports from many existing sources such as WordPress, Tumblr, Medium, Ghost, and FourSquare. So, you can move your blog from its existing site to Micro.blog. I haven't tried this yet – of course – since I've moved everything off of WordPress already. But from what others have told me, it worked just fine – though, some cleanup was required (but that's typical of an import).
The one catch for Micro.blog - it does cost money to host your blog there. A basic blog account is $5 a month, or a bit cheaper at $50 for a yearly account. There is a free trial for 30 days– so you can test out the imports, see what features it offers, and find out if it's a good place to start a fresh new blog or to import your existing blog.
I'm excited with how much this little platform can do, mostly because it can connect so much. I feel the cost of hosting is well worth it, and would love to see more folks discover this platform. With the Fediverse becoming a stronger voice on the Internet, Micro.blog could be a sample of what the future of blogging looks like.
Comments