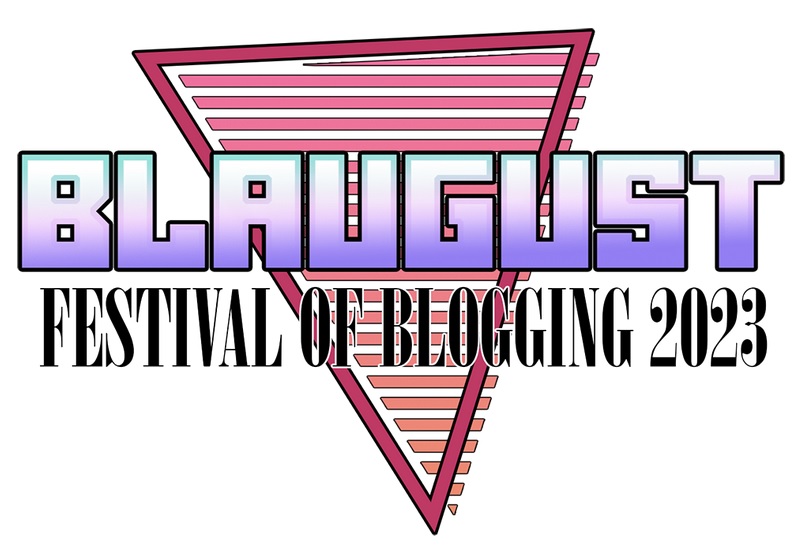 Blaugust 2023 – Why to Blaugust?
Posted on August 1, 2023 by Aywren
So, the month that celebrates blogging, what we like to call Blaugust, has begun for 2023 as of today. I'm setting out to consistently blog all days this month, but we'll see if I can make that a reality.
Today I wanted to talk about the benefits of Blaugust. Why should you join Blaugust? What can it help you do?
Benefit 1 – Creating Writing Habits
I know that burnout is real when it comes to blogging every day. Sometimes I feel it after the month is over, too. That's also why there are several tiers of participation – it's more about blogging consistently and building up a blogging habit than it is blogging all days of this month.
Like anything else you do, the more you write, the easier it is to sit down and… write.
I know that doesn't sound helpful, especially if you hit that mid-point where you've lost your stride and it feels like writing is the hardest thing to do. That's when you pick up an outside prompt from the Blaugust site and push through.
You'll find that the more you flex your writing muscles, the more you make a habit of putting words on the screen, the smoother the process becomes the next time and the next time.
While you don't have to write EVERY day, sticking to a schedule – maybe blogging a certain number of posts a week – will help strengthen your writing process in the long run.
Benefit 2 – Making Connections
No one blogs in a bubble. We don't post our words online to not be read or interacted with.
One big hurdle to this, especially if you're a new blog, is finding your people. Blaugust brings a huge benefit of having an audience of the other bloggers to connect to who are also participating. There's a channel in the Blaugust Discord that's made just for you to drop your posts in for others to see it – very useful for getting the word out!
We're big on sharing across Mastodon this year! So, if you're on the Fediverse, look up Blaugust!
It's also the case of do unto others, however. The more you interact with other blogs, the higher the chance other bloggers will interact with you.
So, going out of your way to read and leave thoughtful comments during Blaugust is an excellent way to build an audience of like-minded folks who will stick around even after the month is over.
Benefit 3 – Getting Help and Feedback
Participating in Blaugust also opens the door to connecting with folks who have been blogging for many years. While they may not have every answer in the world, the community as a whole is very good at pulling together to brainstorm and help troubleshoot issues within the realms of possibility.
If you're looking for technical help with blog setup or something that's going wrong for you, don't be afraid to ask.
Also, if you're looking for peer review and feedback on your written content, there are folks who are happy to help out with that, too!
Again, there's a whole Blogging Help channel in the official Blaugust Discord where you can drop your questions and get your answers!
Want to join Blaugust?
It's not too late! Just fill out the sign-up form!
We'd love to see your posts this month!
Comments