FFXIV: 10th Anniversary Celebrations – Moogle Tomes & Rising
Posted on August 19, 2023 by Aywren
FFXIV is ramping up the 10th anniversary celebrations with two in-game events that offer some great rewards – The Rising and the Moogle Treasure Trove. Both begin on Sunday, August 27 and run until the drop of patch 6.5 – which will be sometime in early October.
While they did hold an anniversary Mog Tome event in the past, for some reason it slipped my mind and this caught me unaware. This is very much a pleasant surprise given just how much there is to earn and how many different ways you can get the Tomes.
Unlike in past Tome events, ANY run of an Alliance Roulette will net you something, no matter which raid you get. Also, Praetorium is clocking in there at 14 tomes each run, which is super nice.
Even Frontlines has seen a bit of a boost in tomes won. I think, though, they are just aware there's a lot on this list folks would like to get, so it needs to be offset by many ways to get these tomes within the allotted time.
This came at a very timely moment for me, to be honest, as I was hoping to find reasons to get back into playing FFXIV more consistently. Well, I do play consistently, but mostly just to log in and do my crafting turn-ins or map runs each day. I tend to forego group content in general, and normal tomestones for tome gear just don't entice me given I can craft my own gear that puts me at an ilvl needed for patch content (which is all I really care about).
The last Mog Tome event had very little that I was interested in, so left most of it alone. This event, however, offers so many things I want that I'm setting up a spreadsheet and checking my inventory to see what I have already and what I still need.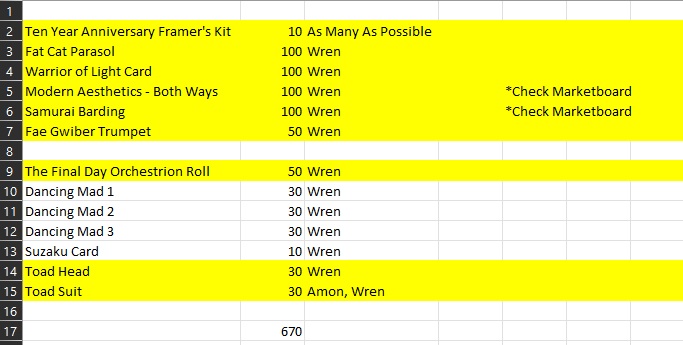 I'm very happy to see the beginning of the Gwiber mount collection finally showing up. I don't run the trials for mounts, so this is the only way I ever get them. While I'm not a huge fan of the Gwiber designs in general (this might change if I own one and see what it feels like), I'm still going to collect what I can when it's offered!
Let's also take a moment to look at the rewards for this year's Rising event.
A big ole phoenix mount! A cute piece of art! Lots of orchestrion rolls!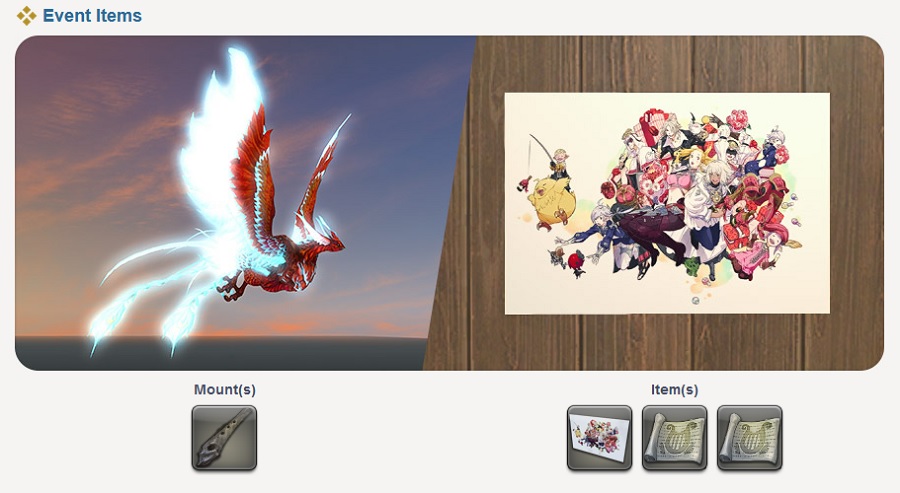 I don't recall a Rising event giving a mount – usually minions, but not a mount. So, this was a pleasant surprise for the 10th anniversary. I'm sure there will be a lot of folks out there who don't have a phoenix mount excited for this. It looks pretty neat, too!
Are you looking forward to anything in particular from these events?
Comments