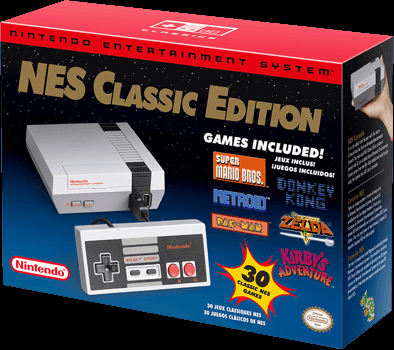 NES Classic and Sisterly Love
So from the moment that the NES Classic was announced, I wanted one. I mean, this was like taking a step directly back into my childhood. How could I not?
But I knew, based on Nintendo's track record, this was going to be hard to get at release. Especially with the holiday looming right around the corner. There were no preorders to be had here in the US, and Amazon sent an email to anyone who'd signed up for announcements that it was going to be tough to get. You can just look at the Reddit to see the stories.
My original game plan was to hit the Target at opening, since it's right here next to work for me. I figured: How many people would think to come to Target for something like this? I'm safe to get there a few mins after opening. 
I thought that I'd be snapping a picture of my new NES Classic for this post today. Boy was I fooling myself.
I got there and there was already a line in the electronics department. A girl in front of me informed me and other late-comers that anyone who had camped the door (camped the door at Target??) had gotten a bracelet only 10 mins before opening. They were the ones to get the 9 units that were shipped to that store.
She went on to say Walmart was already sold out. And seeing I needed to be at work, I couldn't hit lines for Best Buy or Toys R Us. It was sold out everywhere online already. Amazon won't be opening their small stock until 5PM EST. So, my one last option was to get home a little early (since I got to work early) and try to beat the Amazon rush.
Bummer.
But then…
I got a call from my sister. She was hesitating to tell me at first, asking how my NES hunting had gone. She didn't want to spoil a surprise, but she also didn't want me to hunt too hard.
She knew my meager plan would end in failure… because eventually, she admitted she had been sitting in line for four hours last night for the midnight release at her Walmart. Where she'd been the last of 6 people to get a NES Classic there.
For my Christmas present.
I'm totally stoked! It's that feeling like back when we were kids and we knew that NES was wrapped up under the Christmas tree. Since I visit my sister every year for Christmas, this is exactly what's going to happen. It's so much cooler than having got one today, to be honest!
And part of me is so moved that she went through all that just to get it for me. My words are failing me right now.
Best. Sister. Ever.

Comments