Second Life has two grids — the Main Grid (Agni) and the Beta Test Grid (Aditi). Sometimes Aditi is also called the "Preview Grid." Both grids use the same log in name and password.
If you are going to be building, especially in mesh, and you know you'll need to upload objects several times to test them and get your build right… please do your Linden balance a favor and do all your initial testing on the Beta Grid!
What's so great about Aditi? Well, as per the wiki…
In order to participate in Beta testing, you just need to login to the Aditi grid using your viewer of choice. Your account should automatically be set up and you should receive L$50,000 to start.

Nothing that happens on the test grid (Aditi) has any effect on your avatar, inventory, L$, or marketplace listings on the main grid (Agni). Objects, inventory and L$ on the Beta grid may be damaged by bugs, be removed, or disappear at any point during Beta testing.
This means you're granted L$50,000 to do with as you please (limited to the Beta Grid) and none of your uploads will effect your actual L$ balance.
Now, looking over that wiki page, I also see this, so be aware:
WARNING: June 2016, 2017 – If you are a new user and have never logged into ADITI, you will need to contact Support to gain access. This is supposed to be a temporary bug in Aditi login.
Below, I'll cover how to log in to the Aditi on the native SL Viewer and my viewer of choice, Firestorm.
How to Log In to the Beta Grid on the SL Viewer
If you've never logged into the Beta Grid before, you have a little bit of setup to do on the SL Viewer:
Click Me in the top left corner, then click Preferences. 
Click the Advanced tab.
Select Show Grid Selection at login




You may need to log in to the main grid, log out, and restart the viewer for the Beta option to show. It was kinda wonky for me.
Once you've done that, then you will see this drop-down menu option. Just log in with your normal SL account and you're there.

How to Log In to the Beta Grid Using Firestorm
This is a bit easier.
Click the Grid drop-down menu and select Second Life Beta. Log in with your normal SL account.

Finding a Place to Build
Aditi has a bunch of public sandboxes that you can use to upload, test and build to your heart's content. Just know that there is an automatic return built into them for every so often (usually 3 to 5 hours).
To find a place to build, just Search your Places for Sandbox.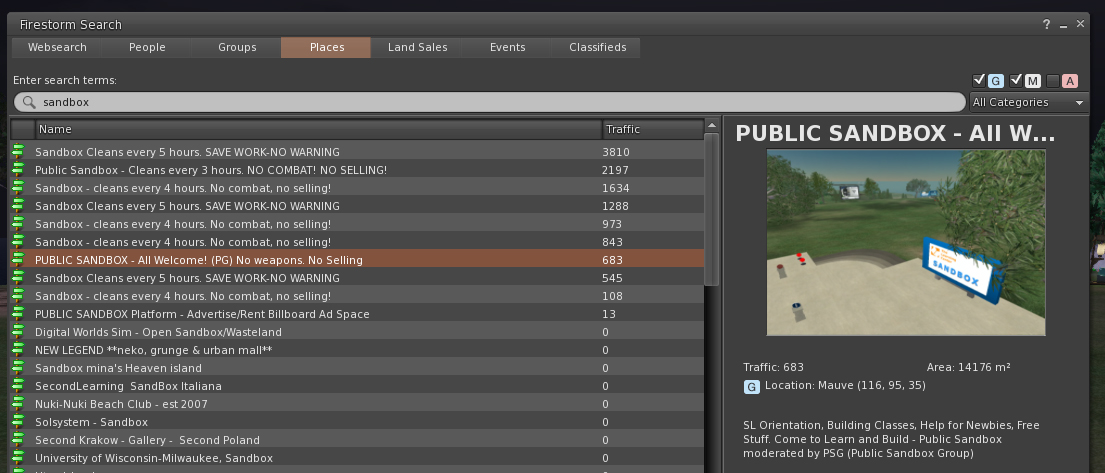 Any of the sandboxes will work just fine. I tend to gravitate to the one in Mauve because when I was a complete SL nooblet, I used to build there on the main grid. So many hours spent in that sandbox… 🙂
Anyhow, happy building! I hope this helped save you some L$ on uploading and testing your stuff!