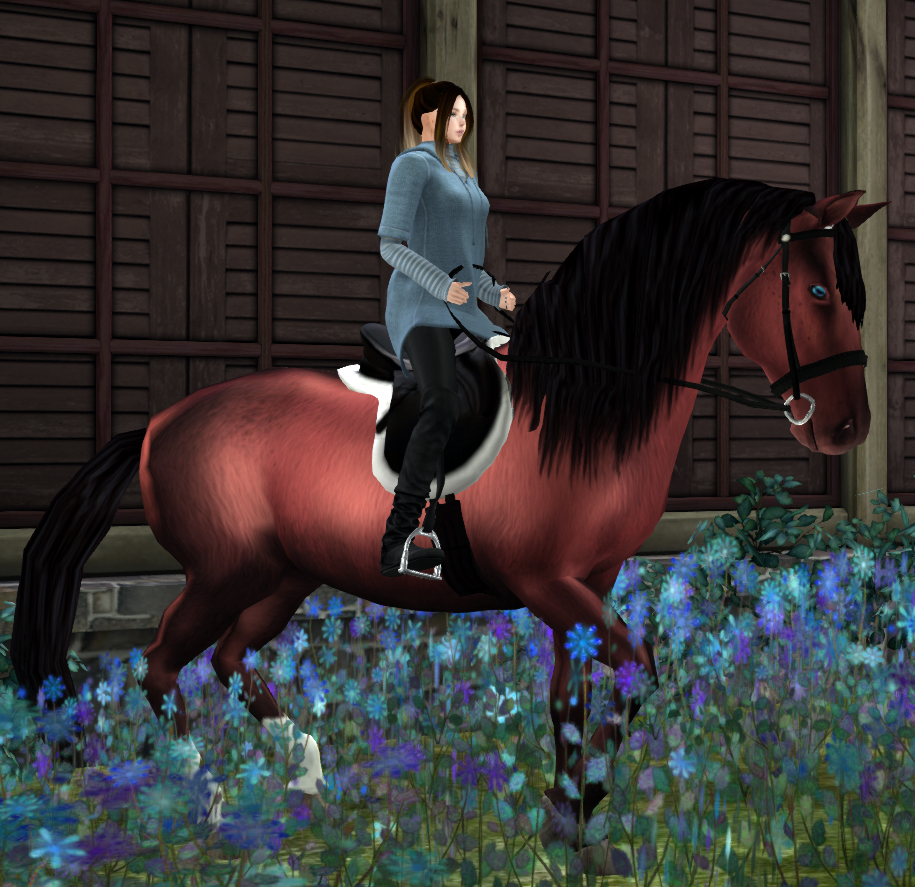 Second Life: Animesh Water Horse Mounts
About a year ago, I returned to Second Life and marveled over the changes in technology – in the form of Bento avatars – that had taken place since last I visited the grid. I spent some time learning to build and design coats for the Water Horse Bento Riding Horses last year, and had a lot of fun with it!
You may not have noticed, but earlier this year, I consolidated a lot of my Second Life posts into this blog. I originally had a separate self-hosted blog for my stuff at Wren Works, but due to hosting issues, I closed that blog and moved relevant game-creative-type posts here.
Anyhow, back on topic. I've been a little quiet in Second Life lately, but I was still following the development of the newest technology – animesh. To put this simply, it's giving a rigged mesh object the ability to animate, similar to an avatar. The tech behind this is a bit hard to explain, but you can read more about it if you're interested here.
For a while, the Firestorm viewer only had animesh in beta, but has recently updated to push that live. So, my first ever exposure to animesh has been the Water Horse ridables. These have been on display at the Water Horse sim for a while, but were finally released for purchase and testing last night to the creators/vendors.
I waffled on whether I wanted to pick one up as they're a bit more pricey than the original Bentos, but I've a bit of L$ stashed away due to coat sales, so I splurged. Keeping in mind these are all in beta testing, so far, it's been a good experience and I'm happy I gave it a try – if nothing else, to test out my existing coats and confirm they work with the new horse.
First Impressions
Though I already have a Warmblood bento, I picked up the Warmblood animesh as well. I went back and forth on which one I wanted, but stuck with what I knew.
The horses look very similar to the Bento horses, and even use the same image maps for skinning, which is nice. Anytime you have backwards compatibility, it's great. The one difference is that the mane for animesh is in two parts, so you'd have to update mane textures to ensure compatibility between the two.
The major difference is that the animesh horse is rezzable. You can drop it out on your land and allow it to wander around. Sit on it to ride it, like a vehicle. It takes up about 38 prims in all, and the rezzed version uses the same texture HUD as the ridable.
The reason I was sorta iffy on animesh is because I really like that Bento can be worn directly out of your inventory, since it's part of your avatar. I didn't want an object I had to rez (which means you have to have rez rights at your location), and the issue of losing vehicles as you cross sim lines and stuff like that.
However, I was pleased to discover that while animesh is rezzable it's also directly wearable on the avatar! So, just like a Bento attachment, you can right-click and Add the horse to your avatar. This means that you aren't force to rez the horse to ride it, it can all be done from the inventory.
Not only that, but you can make copies, place some on your land, and then use one from riding in your inventory to your heart's content. So it's a lovely object for your stables as well as avatar attachment. It really serves two purposes!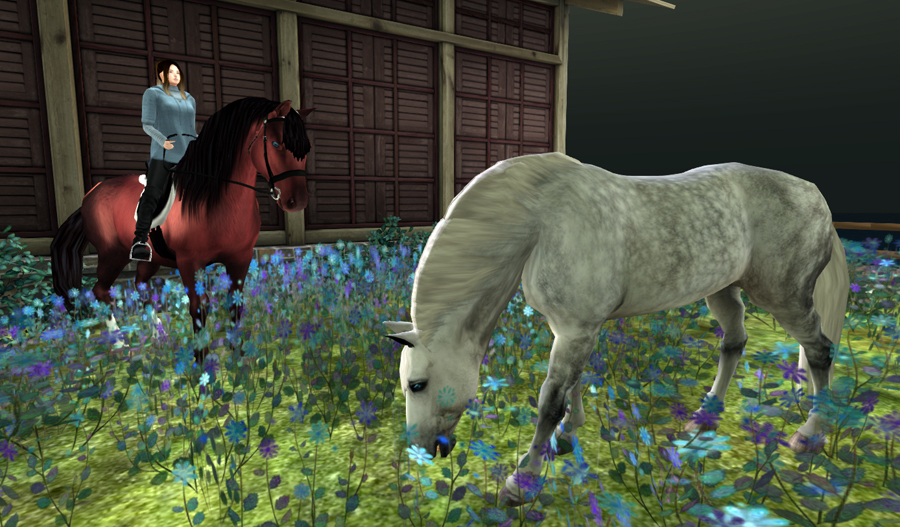 As far as things go in Second Life, this is a pretty novel idea. The horses look and animate nicely. The only thing I did notice is that when riding, it seems to have less stability than the Bento horse did. That's due to the nature of vehicles in Second Life… I see a lot more drift and effects of lag on the animesh horse. I'm not sure there's much that can be done for this, or if it's a product of beta and will improve. Update: Yep, they sent out a new version of the animesh horse with bug fixes and this one seems to move much more smoothly. I still think the Bento is slightly more responsive, but this is better!
The other thing I noticed was that the animesh horse comes all in one piece.
The Bento horse included a body and separate objects for tail and saddle and mane, etc. This made it somewhat confusing since you had to attach a whole folder of objects to your avatar in the right places for it to work. The animesh horse is one object, right-click, Add and done.
What I'm not sure about is how this effects customization. Because the Bento horse came in pieces, you could do things like switch out tails and manes easily. I'm not sure how that, and attaching accessories, work on the animesh horse just yet. There might be a perfectly easy way, though. I'll have to look into it. They sent out a notecard tonight about this very thing — there is a way to remove pieces attached to the horse and replace them, but it seems rather complex.
Overall, it's a nice quality horse with a lot of good features. I'll be testing out my existing coats and updating my sales displays once I've confirmed they all work fine. I also have some other coats I need to work on eventually, as I've left a certain line of products go unfinished over the past year.
Overall, the animesh Water Horse should spark a renewed interest in the horses overall. I'm totally on board with that!
Comments