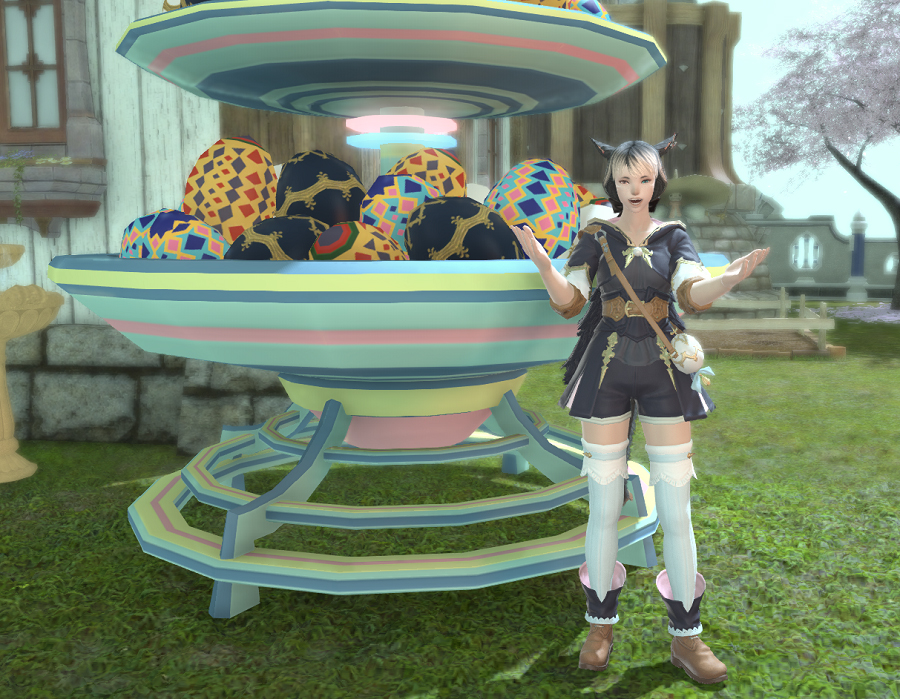 FFXIV: Hatching Tide 2019
I haven't been writing a whole lot about the holiday events in FFXIV this year, mostly because they've been a bit on the underwhelming side. Either they're a bit of a rehash of previous events (I'm looking at you Valentione's Day), or their rewards weren't very exciting (again, looking at you Valentione's Day).
The community has chalked this up to the team putting most of their efforts into the upcoming expansion. If this is the case, I'm alright with this.
Little Ladies' Day did give a cute flower crown that seemed to be a hit on the RP server. But most of the rewards we've gotten (aside from the wonky hidden ones on Valentione's Day) have been housing decorations. On top of that, 95% of those are food housing decorations (which can get used up if you're not careful).
Considering housing is at a premium right now, I'm not sure this is the wisest move. Though, the food decorations are cute and I did pick them up and use them in our house and rooms.
Thankfully, Pa-Pa-Ya brought us a whole cosmetic outfit reward in the form of Spriggan attire. It's a bit on the cute side, but seeing this is Hatching Tide, I won't complain. It's fully dyeable, and is different from other stuff we currently have.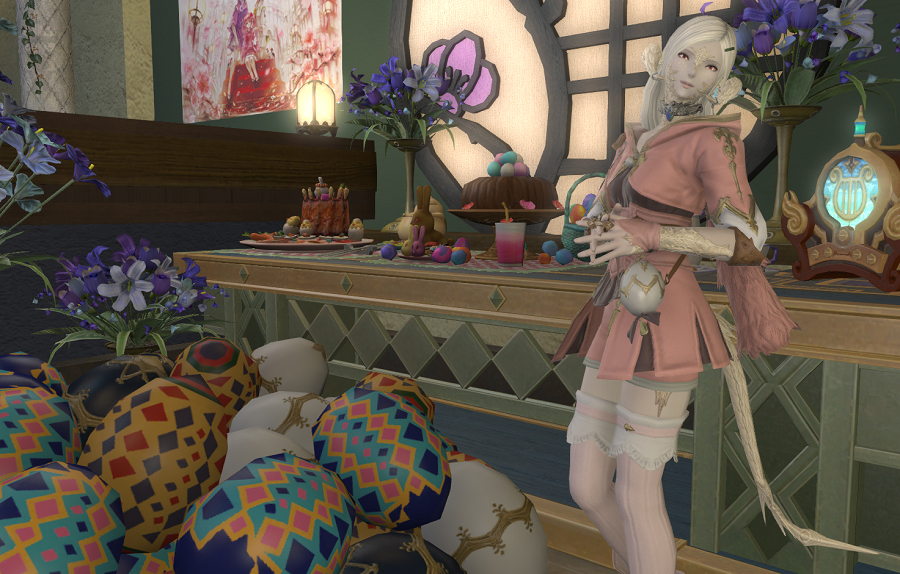 There's also a variation in the legs for the male and female versions.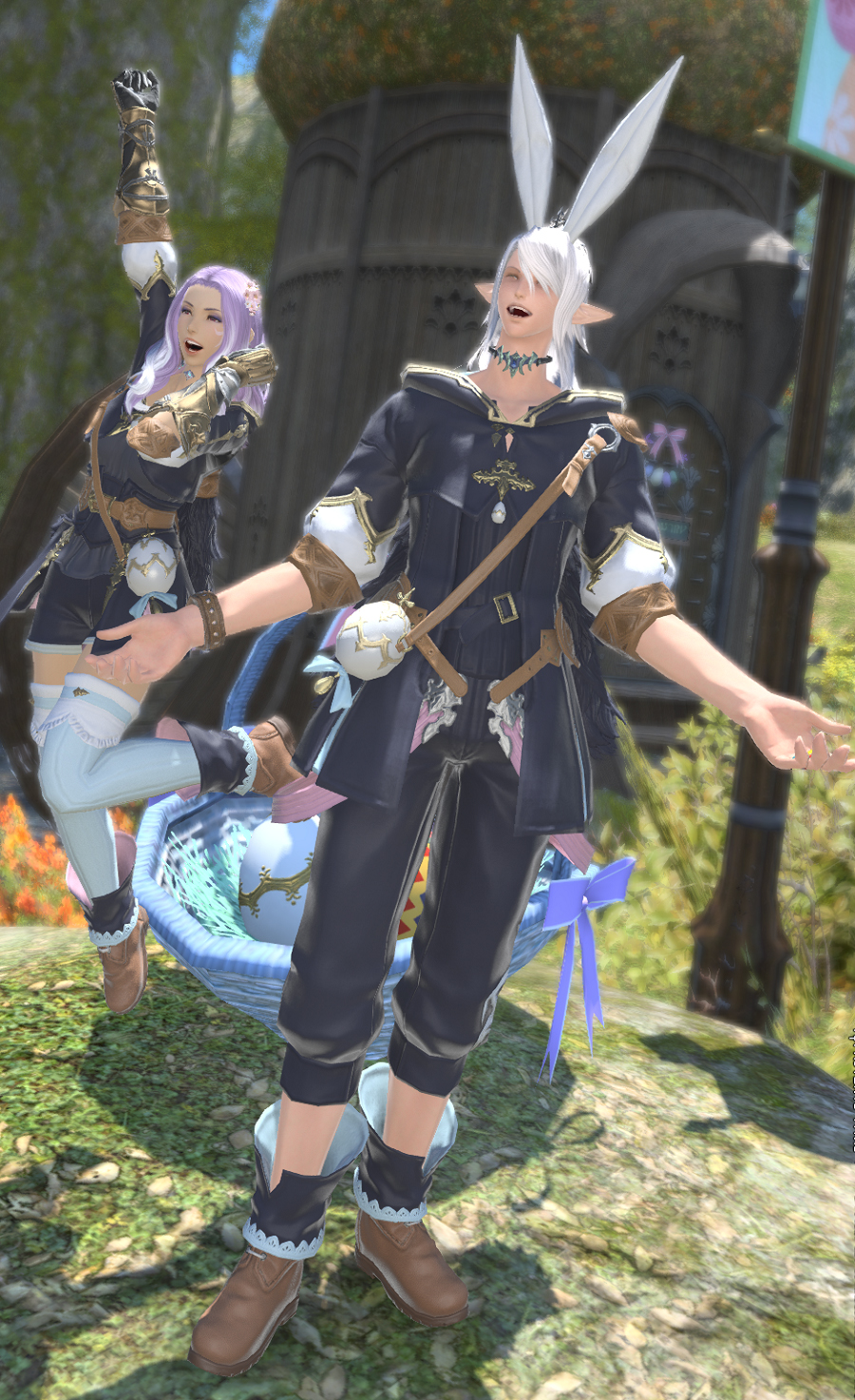 Aside from the outfit, we get two food housing items and a huge pile of colored eggs as a tabletop item. Just in case you ever wanted to fill your whole room with a pile of eggs (which I have seen pictures of people doing, of course).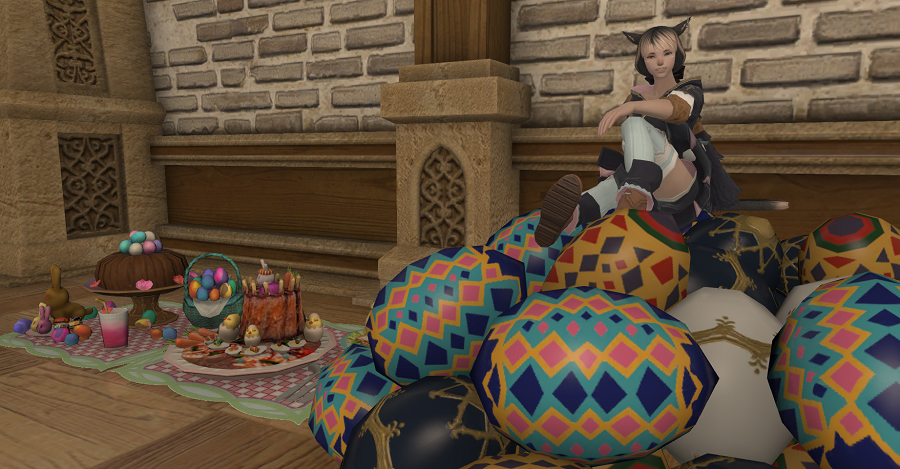 The quest itself is fairly short – takes about 10-15 mins once you know what to do. It's not random in any way, so getting the outfit for alts is just a matter of going through the paces.
Getting it the first time requires an egg hunt and a bit of a word puzzle to figure out the egg's location. The answer to the hunt takes a little thought to work out, but was already posted up on Reddit before I got home from work yesterday. So it's do-able, though a bit evil with its obscure reference on the final puzzle.
I'll be picking this outfit up on the rest of my alts over the week, and do appreciate the work that went into it. We'll be seeing another cross-over event shortly, and on top of an advertised welcome back week for the game, we've seen a lot of activity around the town!
Comments