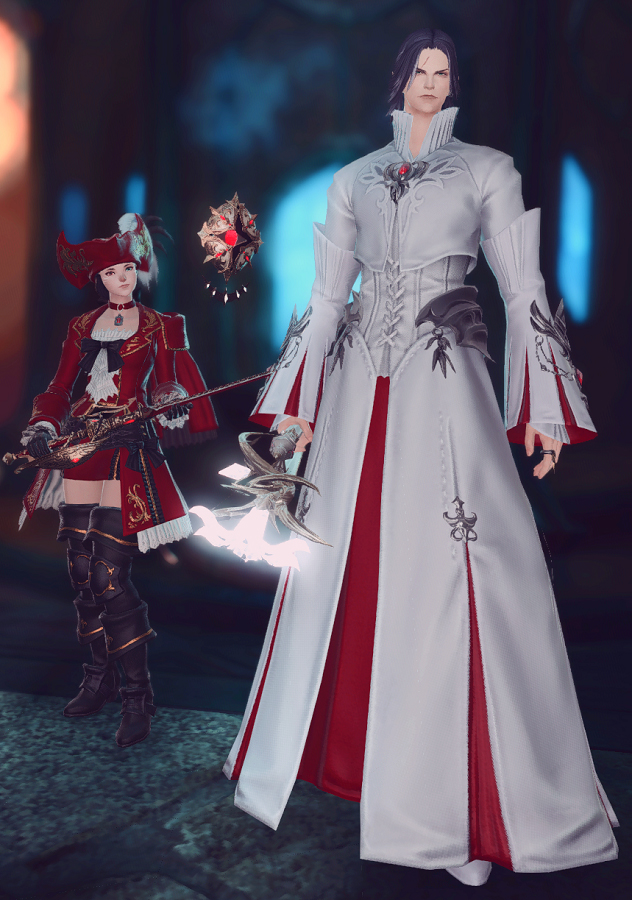 FFXIV: Shadowbringers MSQ Complete
Though we had a few setbacks – such as Syn's net dropping out at about 3% on the final boss fight – we made it through the MSQ for Shadowbringers this afternoon! Above, our characters in Red Mage and White Mage AF armor.
There were a few weak plot points in end that I could pick at story-wise. But overall, the rest of it was so solid that really, the few flaws I could find are pretty insignificant. In fact, I hear a lot of people say Shadowbringers was the best Final Fantasy game we've had in a very long time. I'm inclined to agree – from start to finish, it is a full, whole and wonderful offering to players and fans alike.
I won't go into any spoilers in this post, but I'll just express that in the week I've put into playing it, I've enjoyed everything (except a few dungeon fights) immensely. Still, I know that it's not completely over – though FFXIV did a good job in encapsulating the story within the walls of the expansion itself, it's hinted at plenty more for us to do.
And I haven't scratched the surface of crafting, gathering, Trusts, leveling other jobs, finishing side quests, or unlocking Expert just yet. Not to mention all the alts that I really want to eventually get to the First!
Overall, Shadowbringers has been pure excellence, and I'm positive I'll be putting a lot more time into it going forward!
Comments