Blaugust 2019 – Festival of Blogging
It's almost that time of year again. The summer is heating up and August is quickly approaching. And for bloggers, that means it'll once again be time for Blaugust!
If you run a blog, or want to start up a blog, it's the perfect time to do it! Here's what you need to know.
About Blaugust
Blaugust is the brainchild of fellow gaming blogger Belghast, who originally started it as a blogging challenge during the month of August. The idea was to try to write a post for each day of the month. However, as the face of blogging has changed over time, so has the structure and goals of Blaugust.
I think he says it best, so I hope he doesn't mind if I quote him:
We live in a time when blogs are going dark and the hope is to keep infusing the community with a fresh lease on life. Those of us who have been doing it for over a decade now can easily lose hope. It sometimes takes a fresh batch of whippersnappers to keep us engaged and interested in making sure that the community thrives.

If you have a blog that is waning in frequency, or if you ever thought of creating one… this month is the perfect time to put those plans into action.
Last year, I took on the role of mentor for Blaugust, and joined the Discord group. However, timing was rough for me as I had just spun up my FFXIV RP blog on Tumblr and was heavily into fiction writing. Sadly, I didn't feel as if I gave Blaugust the attention it deserved, but Bel seems forgiving of that.
This year, I'm going to try and make up for it. Though I'm not a super active Discord user in general, I'm already planning posts and topics I want to talk about next month. There's also a handy-dandy schedule, which is there to offer suggestions on what to write each week. You don't have to follow it, but it gives loose topic ideas if you find yourself grasping for a post.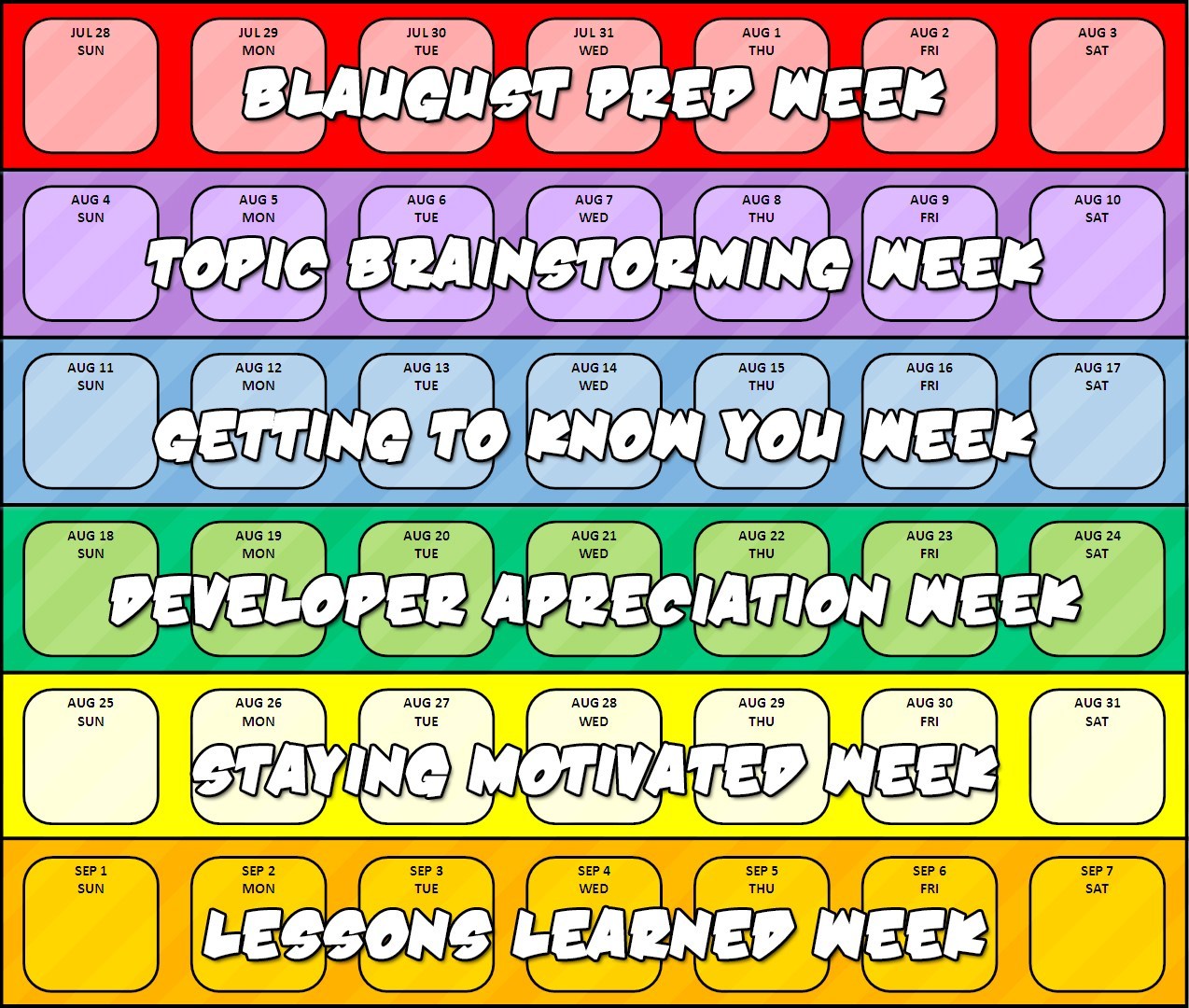 There's plenty of time to get involved and start planning. You can find the sign-up sheet, Discord join link, and more information on the main Blaugust post here.
So if you're a long-time blogger, a blogger who hasn't written in a while, a new blogger, or someone who just wants to try blogging for the first time — you'll find new connections, blogs to read, suggestions/help/inspiration, and readership here!
Hope to see you in Blaugust!
Comments