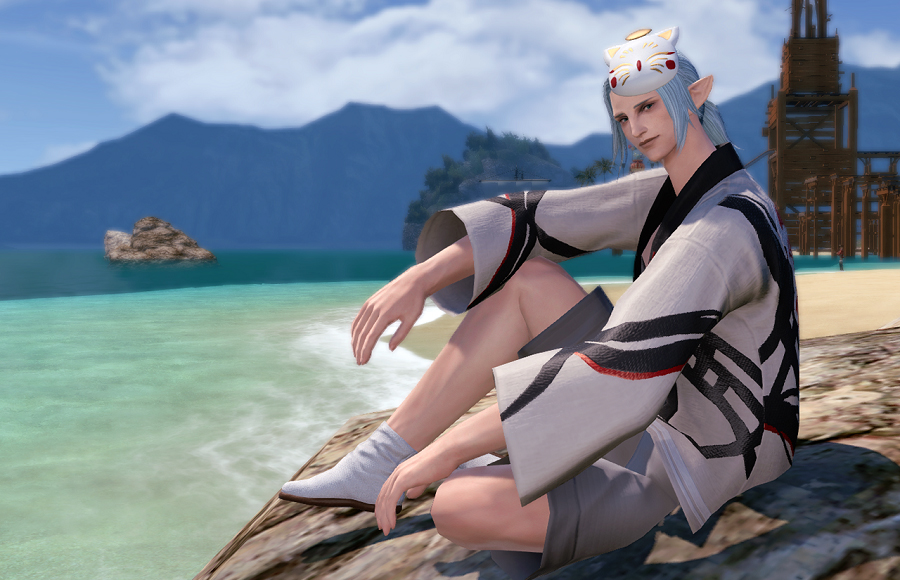 FFXIV: Using Stormshade for Screenshots
Maybe you've noticed that as of late, a number of the FFXIV screenshots I post here seem of better quality than the shots of yore. This is because I've been dabbling with a shader system made specifically for FFXIV called Stormshade.
Stormshade is a version of Reshade that has unlocked the depth-buffer for FFXIV. I don't know what all that exactly means, other than some of the visual options you couldn't normally fiddle with are open to edit while it's turned on.
Not only can you create your own settings based on the shaders provided, but you can also download shader presets created by the community. There's a whole page of those on the Stormshade site. For most of the shots I take, I flip between the various presets I've downloaded until I find a combination of something I like to look at. One day I'll spend some time making my own.
Note: Often, these presets are very intensive on your PC resources, so I don't suggest using them outside of taking screenshots. A few of the presets can be used for play, and will usually be marked in the description if so.
Installing Stormshade
The Stormshade website has a step by step on installing the files required, as well as prerequisites. You do need to be running the DirectX 11 version of FFXIV for these to work. Looks like there are a couple of DX runtimes you want to make sure you have as well.
The basic rundown: download the Stormshade files (Download button is on the main page of the website) and extract them into your FINAL FANTASY XIV Online\game folder. The files you need are "dxgi.dll", "ReShade.ini" and the "reshade-shaders" folder. That folder actually contains the shaders, and the instructions suggest that you remove shaders you aren't using. I never have, and don't have any problems, so I just left them alone.
I pretty much just put any presets I download in the game folder – don't know if that's the way to do it or not, but it works for me. It looks something like this: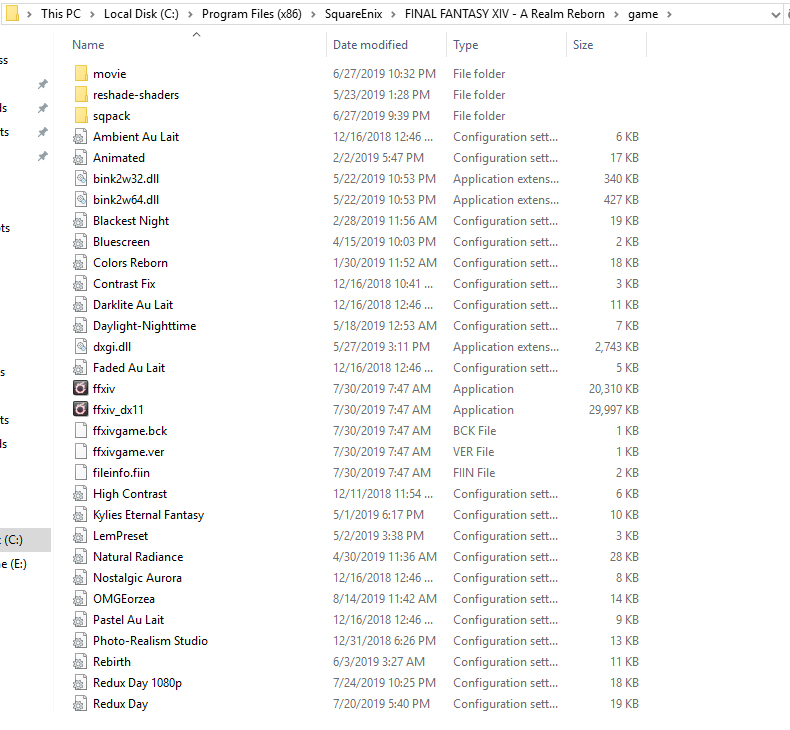 Sometimes presets come with their own shaders as a part of the download, which I drop into the reshade-shaders folder.
Making it Work In Game
So now you're ready to try it out in game. Launch FFXIV like normal. When you press the Home key, the Stormshade UI should pop up. This is where you select presets and the program's settings.
The picture below is the Settings tab of the Stormshade UI. Here, in the top General section, you can see that I have set the following:
Open the UI – Home Key
Reload the Shader Effect – Pause Key
Turn the Shader On and Off – Page Up Key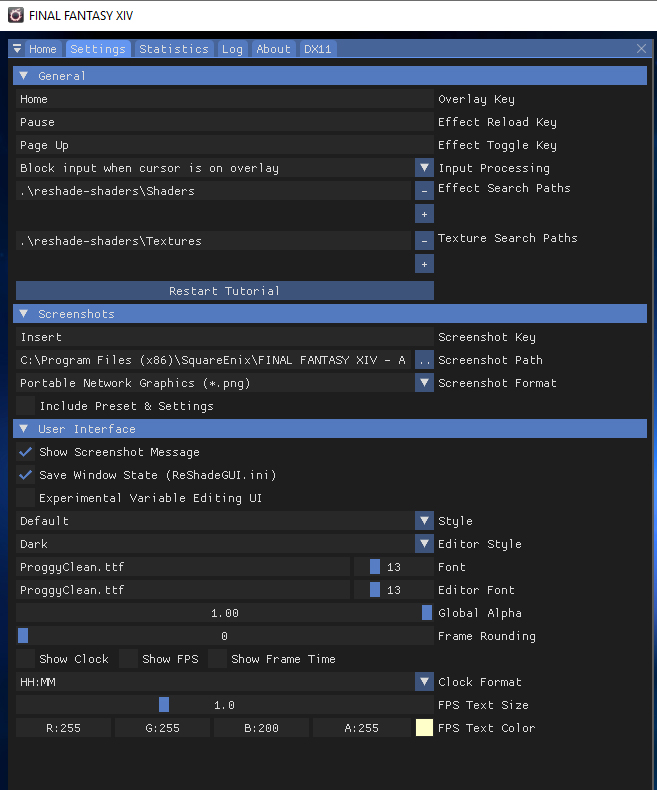 You can set these to whatever you like, but they're super important to remember. If you don't have a preset that is made for actual play, you'll want to toggle the Shaders off once you're done taking pictures. Also, sometimes Shaders don't always load in correctly the first time, so the reload key is one that I use often.
You also want to make absolutely sure that the folder where all your shaders are stored is referenced in the Effect Search Paths. Sometimes that's not pointing to the right place, and nothing will work if so.
The rest of the settings are for if you want to use Stormshade for taking screenshots, and other such things.
Finding the Presets
If you've downloaded some presets, you'll find these in the drop-down at the top of the Home tab. These are .ini files and are listed as so: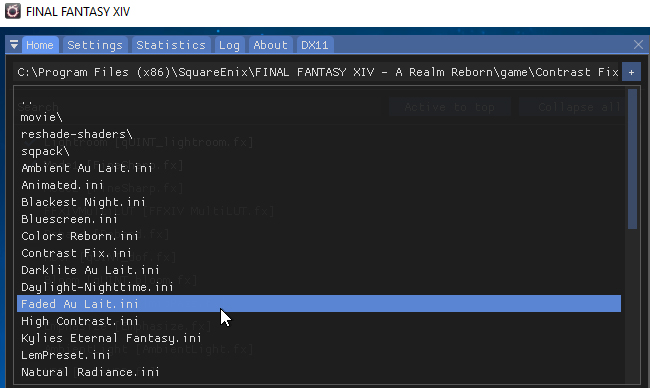 Pressing the + button next to the dropdown lets you make your own custom preset.
When you select a preset or create your own, you'll see a list of shaders that you can select and deselect in the top window. Hovering over the name of the shader gives you an idea of what it does. In the bottom window, you'll be able to tweak each shader setting.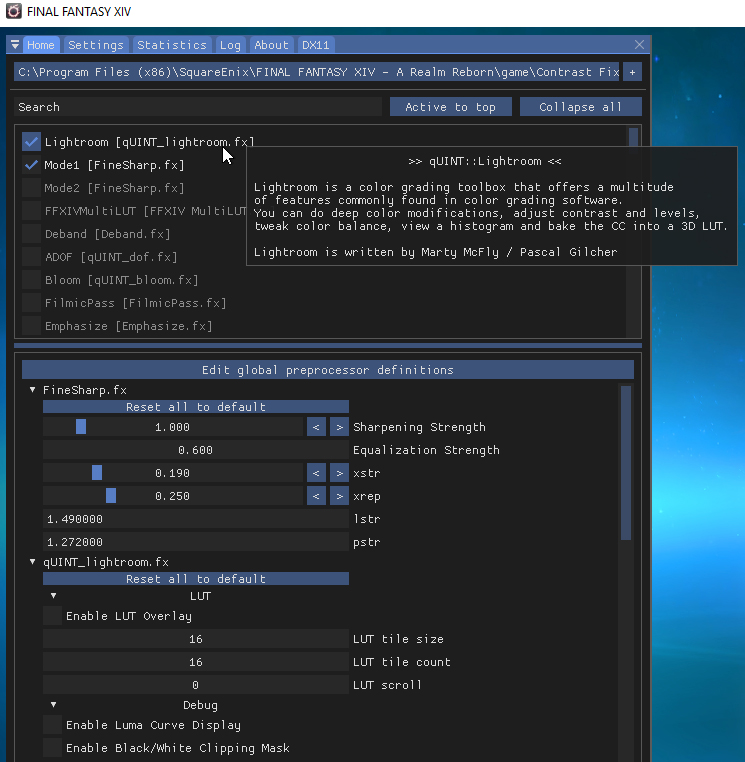 And really, it's just about playing around with shader settings and finding what you like from here on out.
If you have any trouble, you can join the Stormshade Discord (button is on the front page of their site). People share their shots, tips, troubleshooting and presets there. I'm still pretty much a noob at all this – just enough to get it working, but not enough to know what to do if it breaks – so I highly suggest you check there if you need help beyond what I've written.
Enjoy screenshotting!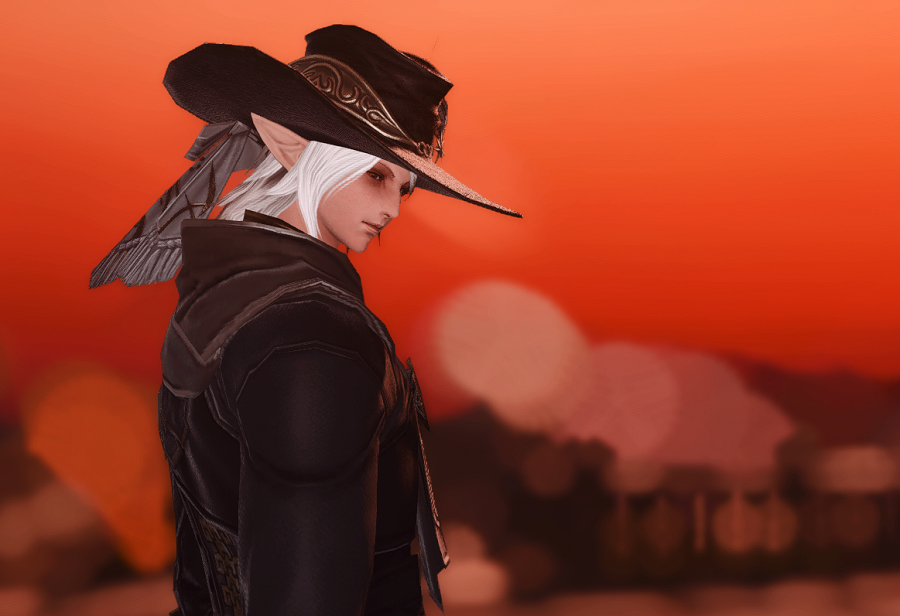 Comments