Blaugust 2019 – The Month in Review
I know that tomorrow is technically the last day of August, but I always post my monthly gaming goals outcome on the final day of the month. I'll be drafting that up to go tomorrow as my last post for Blaugust.
This is mostly a wrap-up post to reflect back on how much blogging I did this month. And I have to say, yes, I did way better than I thought I would. In fact, once tomorrow's post goes live, I will have officially blogged every single day this month!
Here's some graphic proof (up to today's post):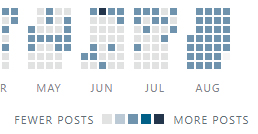 This wasn't really a difficult experience for me, though I did decide to write several posts on Thurs/Fri so that I could queue them up over the weekends to take a break. I also tended to pick the shorter and easier topics for weekend posts.
Statistics-wise, I actually had less traffic this month than the last two. The reason being, the previous months were fueled by people hyped for the FFXIV expansion. Even this month, none of the posts I actually wrote during Blaugust outdid posts views from my FFXIV topics overall.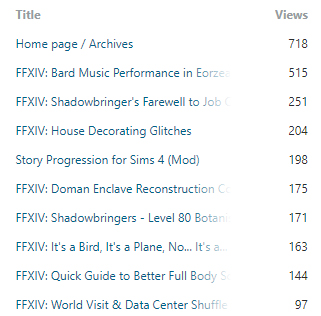 But that's just fine. We had a lot of great discussion about blog/feed readers, valuing content, what motivates us, using Gmail Tasks for lists, WordAds and ad blockers, and that sort of thing. Overall, I hope something I posted this month was of help to someone!
I've also met a number of great new folks, read blogs I've never seen before, and was happy to see the Discord hopping (even if I tend to be quiet in Discord). I hope folks who started a new blog or just revived an existing one will carry some inspiration into continuing their experiences.
We need more blogs and bloggers. We need more comments and conversation. It's up to us to keep this alive and kicking. I'm glad to see that Blaugust had some amazing participation this year with lots of new talent. Let's keep this fun going!
Comments