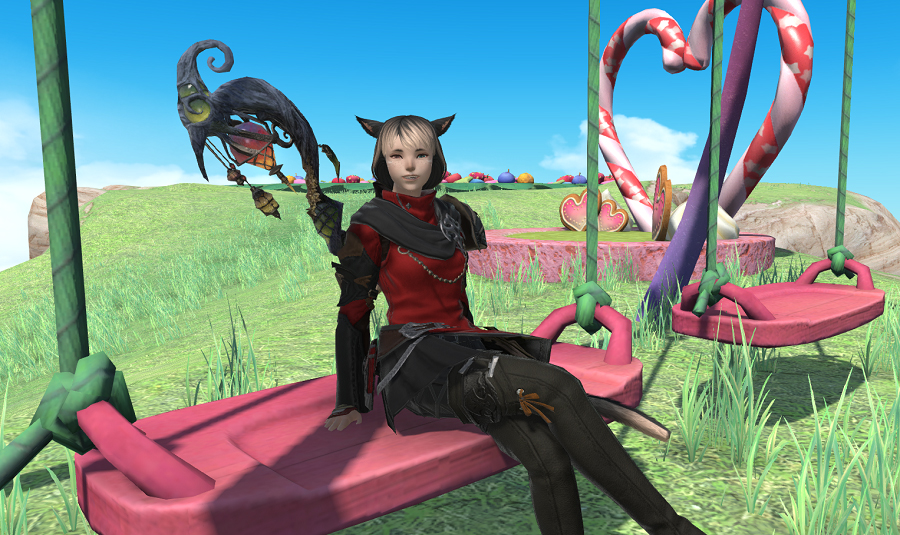 November 2019 Gaming Goals
Gosh, November. This is where people start asking where the year went.
My goals for this month may look like a lot, but are actually a bit lighter, since there's a lot of overlap between the 5.1 content I want to do and leveling my jobs. I'm keeping the leveling aspect pretty low-key since I hope that'll just be part of what organically happens while I'm doing other things. I do want to get all jobs to 80, but realistically, that won't happen until next year.
So what am I looking at this month?
FFXIV Goals for My Main
Daily Pixie Beast Tribe Quests ✓
Daily Nuts Hunts (For New Mount) ✓
Finish Dancer Job Quests ✓
Finish Gunbreaker Job Quests ✓
Level Crafters with new weekly Scrip turn-ins ✓
Get Eden Weapon for Red Mage ✓
Upgrade Gear with Factory Coin Drops ✓
Decorate House (?)
Clean up Shadowbringer Quests ✓
Aside from job quests and the Eden Weapon, most of these are things I'd be doing anyhow. I would like to clean up Shadowbringer quests to help level some. I might focus on the Pixie lands since this is where I'm spending time doing quests anyhow, and all of those quest markers are really cluttering the area up.
FFXIV Goals for Amon
Finish 5.1 MSQ ✓
Daily Pixie Beast Tribe Quests ✓
Daily Nuts Hunts (For New Mount) ✓
Level Red Mage ✓
Level Crafters with new weekly Scrip turn-ins ✓
Amon's goals are pretty similar to my main's. I want to rep up with the Pixie Beast tribes and get that new Nuts Hunt mount. Red Mage is really the only other job he has (aside from Dancer), so I'm doing all the beast tribe quests and as many hunts as I can using this job.
FFXIV Other Goals
Progress Tai through Shadowbringers ✓
Progress Zuri through Stormblood
Level Zuri's Fishing & Fishing Retainer ✓
I'd like to make some progress with both Tai and Zuri this month. It's just a matter of setting aside time, maybe on a weekend, to push through MSQ in their respective areas.
Fishing has been made silly easy to level, so as long as I remember to do my daily Grand Company turn-ins, I won't have any problem there. I'm almost considering leveling other gatherer jobs on other characters at this point since it's become so easy to do. But I think I'll wait until I get some of these other large goals out of the way first!
Nintendo Switch
I still want to make progress in some Switch games. I know Pokemon is coming out this month, so I'll likely get pulled into that for a while. But aside from that:
Defeat next temple in Link's Awakening
Ring Fit leveling
And I think that's more than enough to keep me busy this month! Looks like it's going to be fun!
Comments