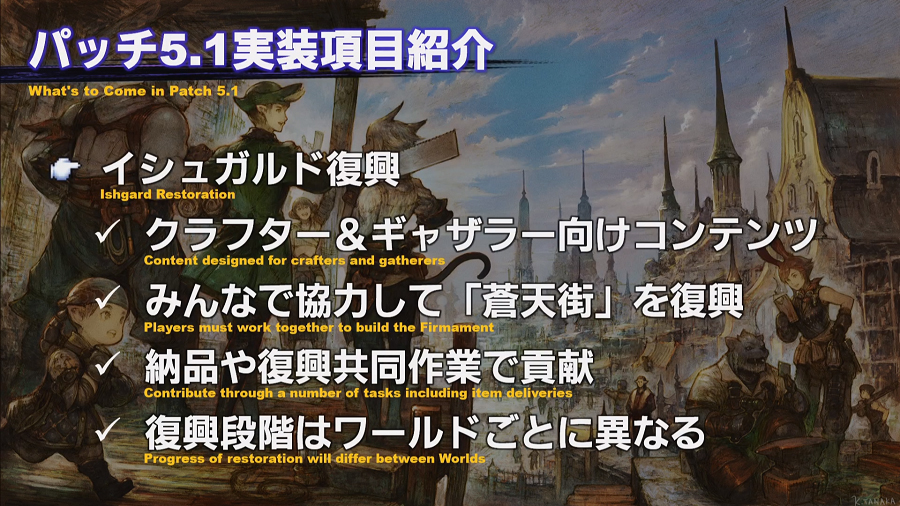 FFXIV: Ready for Ishgard Restoration? Patch 5.1 Crafting Help!
Check out information and guides on how to participate in the Ishgard Restoration!
FFXIV Patch 5.11 drops tonight, and the biggest thing I'm hyped for is the release of the Ishgard Restoration. Advertised to be content especially for crafters and gatherers (though I believe non-crafters can get involved), it will be somewhat of a real-time server-wide building project to restore the areas in Ishgard that were decimated by war.
I LOVE LOVE LOVE this idea — it reminds me of something out of the MMO Horizons (back when Istaria was still called that). The whole server of crafters and gatherers would come together to build and add resources to broken locations to unlock new areas and even races. I'm so stoked to see how this unfolds and will totally be putting in effort to it if at all possible.
The Big Crafting Change of 5.1
BUT!
Before jumping straight into that, let's take into consideration that upon logging in for patch 5.1, high level crafter skill bars looked shockingly like this:

This was horrifying to log in to, I tell you. And the worst part of it was that ALL of your crafting jobs – all 8 of them! – were in this condition.
So many skills were removed and reworked. Almost nothing was NOT changed. So when you have 8 jobs worth of bars with skills you have no idea how to fix, what do you do?
I've never been a macro crafter – I've just muddled through and geared up enough to make the things I wanted to make. I've not crafted high-end gear or anything that requires the massive overmelds.
But I know that some folks are a lot more serious about their crafting than I. And for those folks, here's some great resources:
For folks who are like me and just want to know how to survive without the skills you know and love, here's a quickie quote that talks about how to approach end game crafting:
Start with Reflect, Manipulation, Ingenuity, and use a Touch action five times. Great Strides, Ingenuity, maybe Innovation, Byregot's Blessing, and Careful Synth until you're done.

-Can't find Reddit source (sorry)
Reflect seems to be the skill that's everyone's best friend now. I noticed this as I was sorting through my skills, even before I read the above. I suggest taking a bit of time to really sort through your remaining skills and see what they all do. I found some pretty interesting combos that are now my new mainstays. It wasn't as bad as it seemed!
Cleaning Up Your Crafting Hotbar
–Credit to this Reddit thread for macros that helped me get all 8 jobs back into working condition!-
So, let's rebuild those crafting hotbars. The easiest way I've found is using macros (here's how to make macros in FFXIV if you've never done it).
Step 1: Strip your existing bars clean (if you want). This macro will do the trick:
/hotbar remove 1 all
/hotbar remove 2 all
/hotbar remove 3 all
If you have more than 3 bars, add one for the 4th, 5th, etc.
Choose one crafter to rebuild a new bar, switch to it, then use the above macro to clean off all the mess that was left when 5.0 hit. Now you have sparkly clean bars to build your new skill list!
Step 2: Once you're familiar with the new skills, rebuild your crafting bars however you see fit. Keep in mind that they've done away with cross class skills, so all skills are now given to all crafting jobs. This makes it easier in the long run to build a bar that works for all of your jobs.
Step 3: Time to copy your new bar to each of your other crafters! Here's a macro that can do that for you:
/hotbar copy LTW 1 current 1
/hotbar copy LTW 2 current 2
/hotbar copy LTW 3 current 3
Here, the "LTW" stands for Leatherworker. You'd replace that with the shorthand for whatever job you just fixed the hotbars on if it wasn't leatherworker.
Also, if you have more than three bars, you'll have to add more with 4, 5, 6, etc.
Now, all you have to do is switch to each crafting job and run this macro. It will replace the messy old bars with whatever the new setup was on the job you fixed.
And there you go! Your crafters bars are now set up and ready to go for the Ishgard restoration!
Also, remember, if you've never leveled crafters before, or you're working to level them now, everything that gives crafting experience gives a ton more than it used to. So get in there and do grand company turn-ins, leves, beast tribe quests, and weekly scrip turn-ins! Good luck!
Comments