Like many folks, I've been playing Animal Crossing: New Horizons since the day of release. I'm not sure why I haven't blogged a whole lot about it, but I continue to play in some capacity every day.
Blue Rose Breeding
In previous AC games, I never paid much attention to flower breeding. In fact, I didn't pay much attention to flowers in general. But this time around, I decided to look into it.
Of course, there's the easy crosses you can make… then there's the roses. It seems like roses have the most complex and deep breeding of any of the AC flowers.
I was pleased when I started getting black roses to decorate around my second character's house. But then I saw something about blue roses. Blue being one of my favorite colors, I decided to give it a shot.
Roses are native to my island. So had a bunch of them already. I figured this was a good starting point, and I read up this guide on what to cross to get what color to move in the right direction.
It seemed pretty straightforward:
Yellow + Red = Orange
White + White = Purple
Orange + Purple = Hybrid Red
Hybrid Red + Hybrid Red = Blue
So that's what I started to do. I dedicated pretty much all of the northern part of my island to fields and fields of roses. I never got a zoomed out screenshot, but I'll just say, it took a LOT of watering.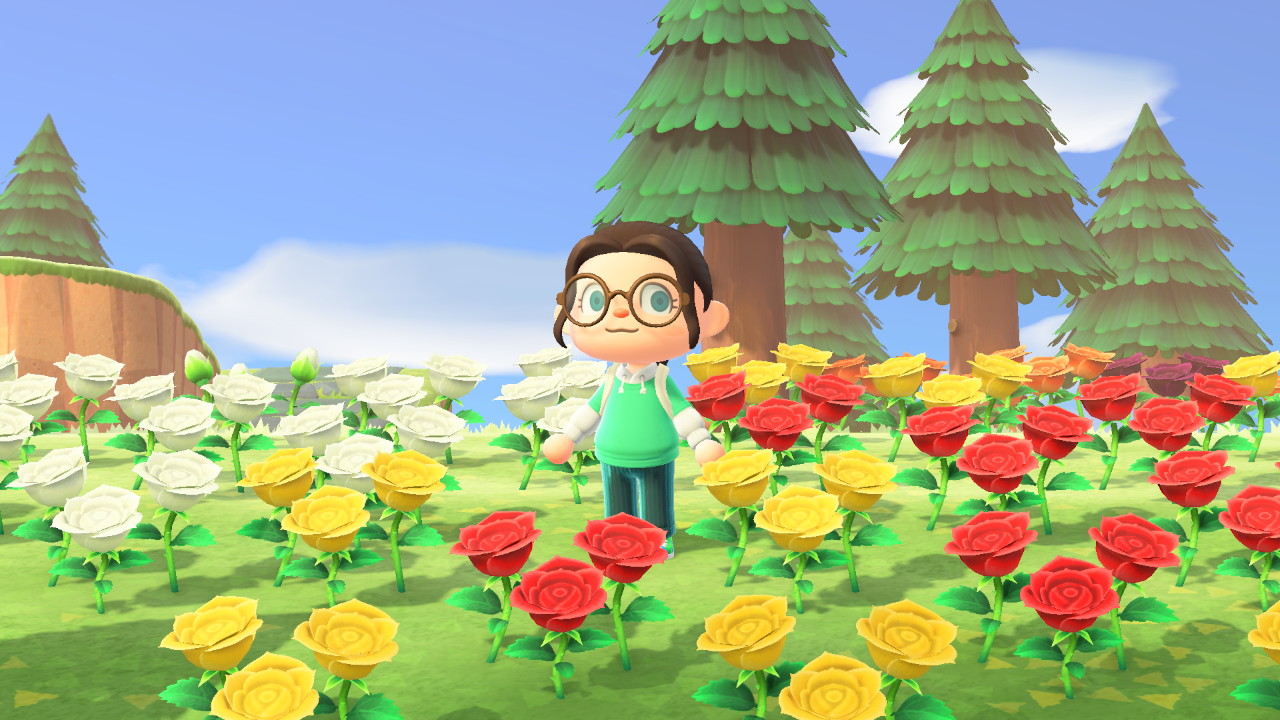 Eventually, I got the purples and the oranges. They got their own field.
Then I started getting hybrid reds, which I put aside in their own field, too. The thing about the hybrid reds is that they look exactly like normal reds, so you have to be careful.

Bad Genetics
However, after a few weeks passed, my hybrid reds produced more hybrid reds and an occasional black. Most of the time, they didn't produce anything at all. So I started to wonder if I was doing something wrong.
I also wondered if I should have been crossing the hybrid reds that spawned from other hybrid reds, or if that was messing things up. So I decided to do further reading to look for answers to my questions.
What I found was disheartening. Apparently, there's a lot more going on with the genetics of roses than I knew. I ran across this video here…
And learned that there were such a thing as "bad" hybrid red roses and "bad" genetics that would just never produce a blue rose. And that several breeding steps, tests and weeding out bad genetics would lead to the highest chance at success.
Even if you do have two "good" hybrid red roses, according to the video, you still only have a 1 in 64 chance that a blue rose will ever spawn. This was all supposed to be taken from tests and data provided by the community who delved into breeding.
And every guide I ran across said the best way to ensure good genetics was to start with planting from seed bags. Because this was the only way to start with pure genetics.
Considering I just threw a bunch of roses together that were already on my island, I started to think that my chances were next to none in getting a blue rose at this point.
Starting Over
Last Friday, I started to dig up all of my breeding roses and start over again from scratch. That was a lot of roses. I kept the purples and oranges as decoration around houses. But tossed most the whites, reds and yellows that came native to my island.
But just in case, I decided to leave my hybrid red field alone. And I still watered it on Friday.
Saturday was my birthday, so I hopped in game long enough to celebrate my birthday with the animals. I didn't think to check my flowers or water them at all.
Sunday, I came around to check the progress of my new roses, and went up to see the hybrid reds I had kept around. To my absolute shock, there was a blue.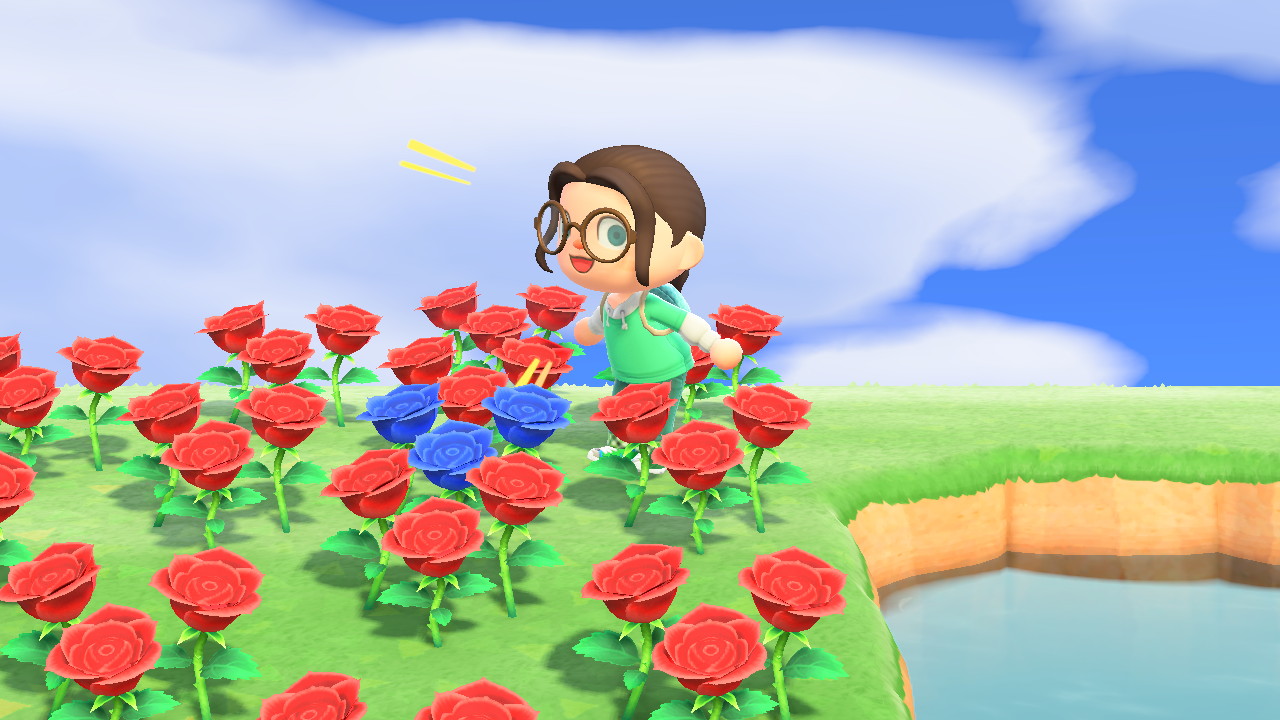 The fact that it was already in flower means that the very day after I dismissed the chance of getting a blue rose this way, on my birthday, this blue rose spawned. I just didn't find it until the day after.
I took it back to the center of my town where I'll certainly be watering it hoping for it to multiply. After reading and hearing how hard it is to get a blue rose this way, I feel like fortune was seriously shining on me.