7D2D Alpha 19 dropped last week, and I've been meaning to write some posts about it as we've explored what the update has to offer. Just as with any alpha update, it feels like a whole new game. There's a ton to write about, but the one thing that really stood out to me from the very start was the new dynamic music system.
7D2D has always used music pretty sparsely. You get a jingle in the morning and an ominous piano when it turns night. But aside from that, there was just some slightly atmospheric loops that felt more like sound effects than true music.
That's changed with A19, and I'm really impressed by the concept and customization of this dynamic music system. Playing on a randomly generated map as we do, it makes sense to have dynamically generated music as well.
Here's what the patch notes say about it:
TFP have again teamed up with Native Darkness Productions to make the Alpha 19 Dynamic music system more robust while adding a ton of new content and features.

The propriety Dynamic Music System algorithm measures and uses many player-centric conditions such as player location, biome, time of day, inside or outside a location, nearby aggressive enemies, threat level and more to tailor a custom movie like musical experience for the player.

From this Dynamic Music System algorithm the system can play from the following musical groups: Home day music, home night music, exploration, suspense, combat and custom trader music for each trader.

Exploration, suspense and combat are procedurally generated providing a complete musical arrangement from a set of interchangeable loops. As of Alpha 19 there, are 31,558 unique combinations of music.

7D2D patch notes
The lovely thing about this system (which is off by default) is how much you can customize it.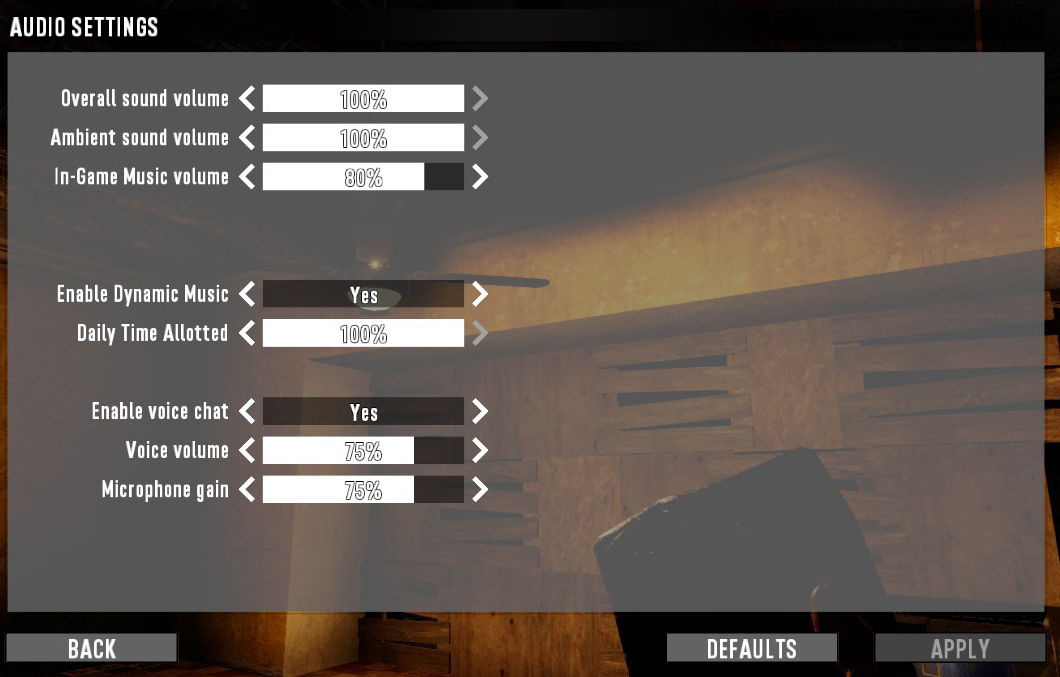 Once you enable the music, you have control over not just the volume, but how often you hear the tracks play. I've got mine up to 100% but the default is something like 30%. So if you just want to explore and rock zombies with a few tunes from time to time, you can do that.
It is very much a dynamic system. Somehow, the game recognizes when I'm just chilling and building the base as opposed to being out in the world exploring, or creeping through a house with zombies around every corner. Battle music is a tad odd at first, but actually quite helpful – you know when you're being targeted even if the zombie is in another room somewhere. It's also alerted us to times when zombies were beating on our base wall though we didn't hear any other trace of them.
I really can't think of another game that has implemented a system like this. Sure, the tracks can get a bit redundant at times, but it's still a really cool concept. I heard that Trader Joel's music is a lot of fun – I haven't visited him yet, but other folks in the Posse have.
We've already made it through the first two blood moons in our playthrough. Our base is established and I'm working on a warfort. So I'll be writing more about my impressions of this new alpha soon!