On my main character, at least.
So this week I've been powering through crafting the Dragonsung tools from the recent crafting patch. There's nothing too terribly difficult to it… as long as you have decent gear to start with. It's mostly just time-consuming because it's far easier to craft the HQ finished product you need (and it must be HQ) by using HQ prerequisites.
Because you need 30 of those, that's 60 combines for the second stage of the tool. Not to mention you had to have the scrips to buy the Oddly items from the vendors. That was actually the easiest thing for me since I already do weekly scrip turn-ins. In fact, I had piles of Oddly items stacking up in my inventory, which was a real motivation to get this done and clean my bags out.
So last night, I finished my last crafting relic.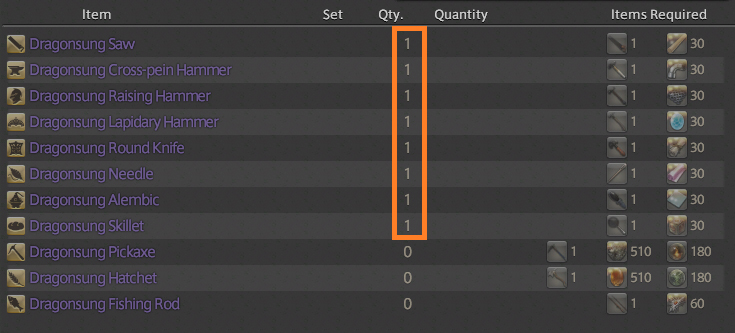 Please let me note that I haven't started the gathering relics yet. But if you look above at what's required for the second stage – 510 High Quality gathers…. and 60 HQ fish for the rod… yeah. I'll work on that when I'm in the mood for gathering.
In the meantime, I need to do this all over again on my alt, Amon. He's already got two of the tools finished. But his gear isn't quite as good as my main's, so he usually requires a bit of food to give him a boost. Not only that, but I know that I need to upgrade his current tools on many jobs because they're still stuck in level 70 rubbish.
The one thing that irks me a bit is that to start the prototype for each relic item, you have to plunk down 80,000 gil. That's more than the facet tools cost on the marketboard on my server! Ouch!
I'm not sure if this will all be worth it if I don't keep my gear up to date and melded, but at least my main has it complete. I guess Amon can just work on it casually when I don't have anything else pressing to do (when is that?).