Most folks know by now that I'm a super shy person, and that often extends into interacting with people in games. I won't go into a bunch of details, but it does make things like in-game events, especially of the role play type, frightening to me.
However, when a group of friends I knew on another server were hosting a Free Company "art party" this past weekend, it sounded tame and safe. Suffice to say, I had no idea what an art party actually was…
In my head, I envisioned a small group of people sitting around, socializing a little bit and drawing sketches of whatever they were working on at the time.
The reality was…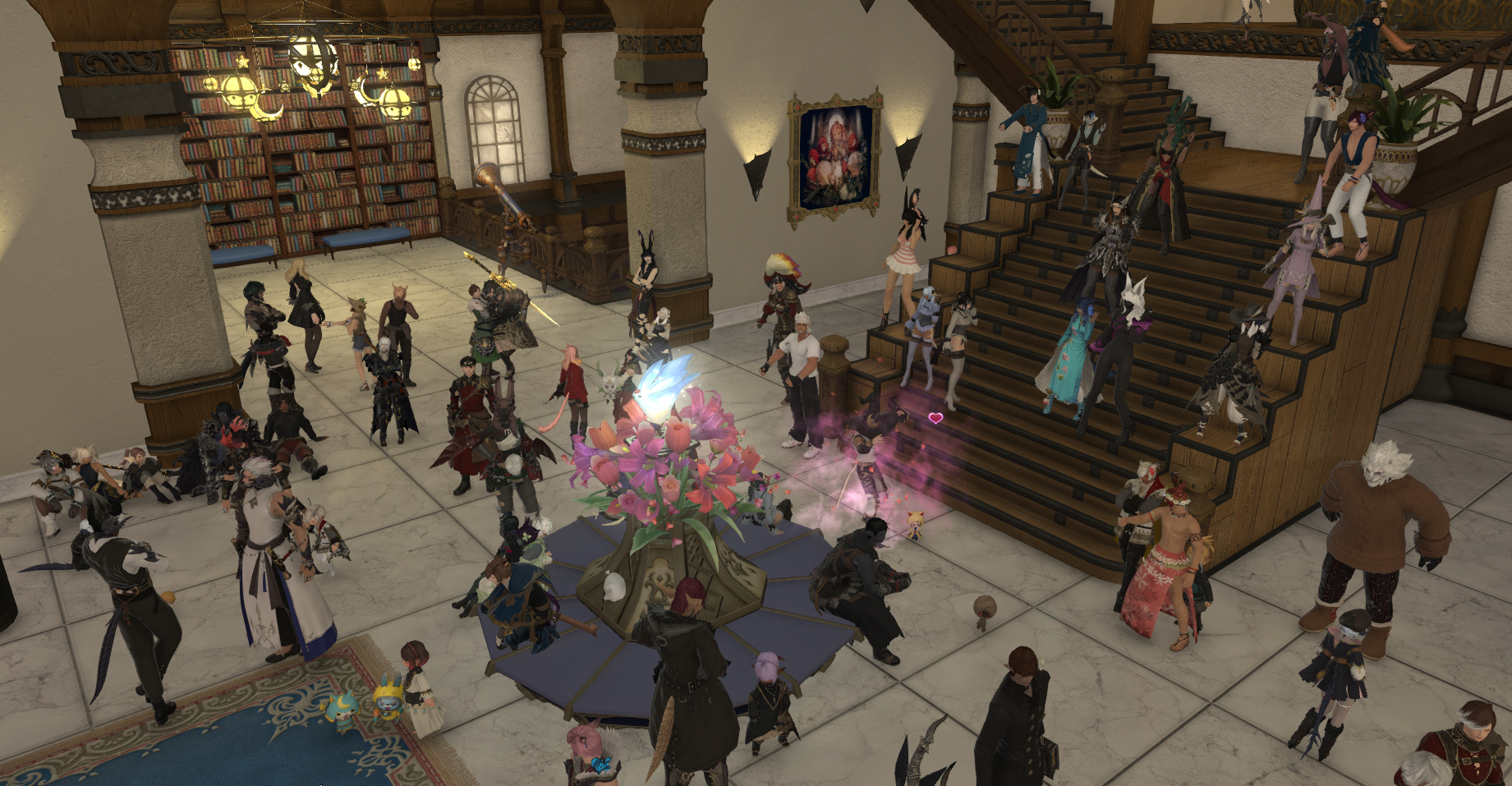 …So many people (not pictured) in this large mansion that the house could not physically admit any more people inside and the zone outside had become just as busy!
Rocking out to this tune for hours…
I was absolutely taken aback at the response to this art party. So then I started to try and figure out what this gathering actually was.
Art parties IRL are defined as:
An Art Party is a unique experience where a group of adults get together to enjoy each others company, drink wine or cocktails if they choose and create their own work of art with some guidance and encouragement. 

https://www.iloveartparties.com/faq
In FFXIV, it takes on a slightly different context. So, you have a bunch of characters sporting their favorite glamours all coming together to hang out.
Here, there is some socialization, but it's not really a role play atmosphere. There's mostly lots of dancing, chatting, goofing off and meeting people. But the focus of the art party is artists (both those who draw and create screenshots) finding other characters that catch their eye, and drawing/screenshotting them.
Then, these pieces of art are put on display using a specific hashtag, mostly on Twitter. So all the art and the screens and the interactions are shared across this hashtag.
I was too overcome by the actual party aspect to get into the art part of it. It wasn't until I actually saw art of my character popping up in the tag that it clicked. Sometimes an artist will directly message you with the URL of a piece of art. Sometimes you just have to keep an eye on the hashtag scroll on Twitter and discover the art there.
It's very exciting to know that your character stood out to other people enough that they'd want to draw you! I was really delighted to see all the creations! Not only that, but during the time spent at the party, I whisper chatted with a few folks, and met a number of people that exchanged follows with my character's Twitter.
Most of my development for interaction about this character has been on Tumblr, but I have wanted to find a way to connect more on Twitter as well. This really helped me reach out to meet new people.
Not to mention my persistence of dancing next to the the stairs by myself ended up turning into this dance group before the night was done: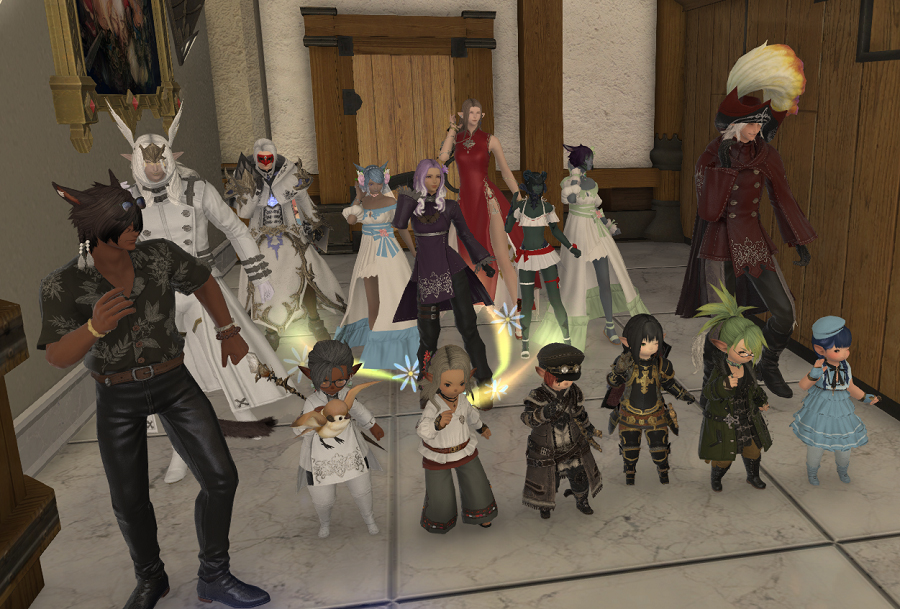 We had everyone from Ascians to Allagans to Scions to Sin Eaters and Flame Generals!
This was great fun, and I intend to join the second part of this party this upcoming weekend (held at a better time for our European friends). I've also learned that this is actually one of many such parties going on!
This Twitter account is dedicated to getting the word out about FFXIV art parties on all data centers. If all of them are as fun as this one was, I'll be looking forward to joining more of these on down the line!
Now that I've introduced art parties to you, you can keep an eye out for one on your data center, too!