Syn and I spent a lot of time in Valheim over this past three day weekend. We've made so much progress – finally getting out of the swamp slump – that I'm going to have to break up our adventures into several posts.
We've mostly remained as spoiler free as we can, which leads to lots of fun discoveries and surprises. I say "mostly" because we've been a bit more open to looking up things when we discover them if we have questions or curiosities about them.
That lead to the realization that the plains were not the next in order for us…
So we finished upgrading all of our iron gear to as high as our forge would allow. Having done that, we turned our sights to locating Bonemass. We knew that this would involve sailing. We just didn't know the adventures that sailing could bring.
Thanks to a comment from Bhagpuss, we knew that we could break up our little Karve that was on the other side of some islands to make an easier trip. However, there was a great big area of unmapped waters between the swamp island and our original home island.
So we decided to set out on a side adventure to sail between the islands and see what all was there. This didn't seem to be an issue since we'd always had peaceful sailing before, but we also didn't realize the dangers of sailing during a stormy night.
We weren't too far from land in either direction, but far enough away that I knew we were in trouble at the first sight of the Serpent that was suddenly following our Karve. At first, we tried to speed away from it (in a storm) towards the nearest island.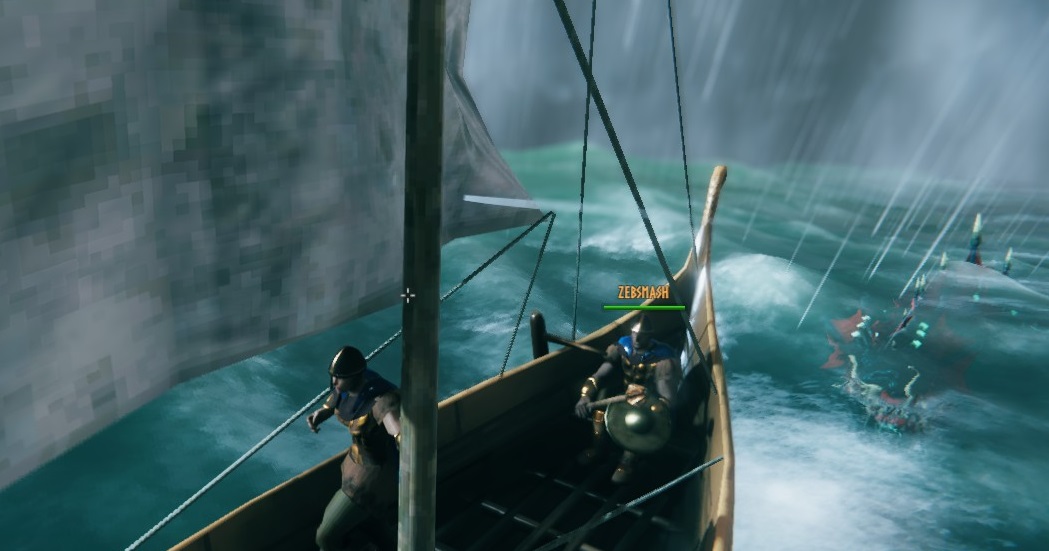 We realized quickly that the Serpent was faster than our little boat, so we began to try to fight it off with swords and maces. This… wasn't effective at all and was starting to damage our Karve instead. So, out came our bows.
We only had fire arrows on hand, but that did damage it. It almost seemed like we'd frightened it off at one point as well, but then it came back around. The Serpent made little work of destroying our Karve (it didn't help that we probably damaged our own boat trying to swing weapons at the monster).
And while we were in sight of the shore, neither of us made it out of the shipwreck alive.
The one positive thing about all this was that we learned that dying on the ocean leaves a floating tombstone. I was afraid that death on the ocean meant the loss of everything as it sank to the bottom. I had opted to leave all of my iron gear back in the base for this expedition, so all that I lost was the old bronze set and my tools. But we still wanted to get our stuff back if possible.
The one negative thing – looking up information on the Serpent – we learned that the Serpent would probably be hanging around our death spot.
We took the new longboat out for this run – though Syn decided she didn't like how bulky it was in handling compared to the Karve. So the maiden run of the longboat is probably going to be its last (I know it's faster and it can carry more, but maneuverability is important too).
It took a while for us to sail back out to where our corpses floated. We were really antsy after our first Serpent run-in, and my eyes were ever on the ocean when it rained or was night. I know there's just a small chance of one popping up but… hey… it happened once, right?
Between our new-found fear of the deep and struggling with controls of the bigger boat, this took some time to do. When we approached our tombs, the Serpent was still very much out there and in sight, but at a good enough distance that we were able to sneak in and sneak out with our stuff.
Once we got back to our base and shook ourselves out from that adventure, we decided to build another Karve and set our sights on finding the location of the next boss, Bonemass.