Due to Syn's preference for the karve's easier handling, I built a second karve at our boathouse. The nice thing about the boathouse is that it's on the side of the island we'd need to launch from closest to Bonemass' location.
So that's what we did.
Not far into the expedition, we came upon an island. Since the map was still hidden from us, it was hard to tell if this was a small island next to the island that contained Bonemass or the island we needed to travel to. It was also hard to tell how far north and south this landmass extended.
Syn gave me the option – sail north or sail south.
I chose north. After sailing all the way around the island northward, I think I chose wrong.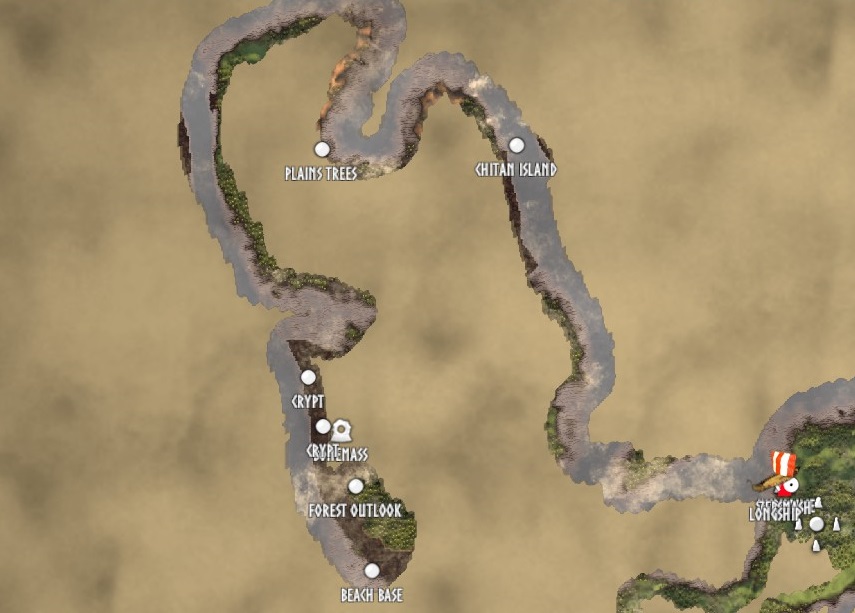 However, that trip was not wasted. We found a good stretch of plains, for one. We also found a large mountain biome on the island as well. It will make for some good exploration in the future.
Not to mention, as we were sailing, I saw a strange island that contained what looked like barnacles at first glance. Syn and I had rarely stopped for anything in our expeditions, but I asked her to park the boat for this out of curiosity.
Mining the barnacles, I began to gather chitin. I also began to hear a strange whale-like sound, and took note that the island was rumbling – we became very suspicious that this island wasn't an island at all. After mining three barnacles, the island suddenly submerged, leaving me in the water.
Thankfully, the Syn sent the boat my way and we were able to beat it out of there. After the run-in with the serpent, we didn't know if this creature was going to come after us. Looking it up, I discovered this was not the case – it merely sinks. It was still a fun encounter and I marked the location in case it should rise up again.
Eventually, we came across to the west side and found some meadows to set up an outpost (we try not to make a base in the swamp). We were further away from the Bonemass location than I'd wanted to be. The last thing we needed was to die on the boss and have to try to make a long run through the swamp with bronze gear to get our corpses.
As we started to make our way northward, we discovered a thin strip of black forest that ran parallel to the swamp. So we decided to make a second outpost as close to Bonemass as we could, moving the portal to the new location.
Once that was complete, we set out into the swamp to take down the boss.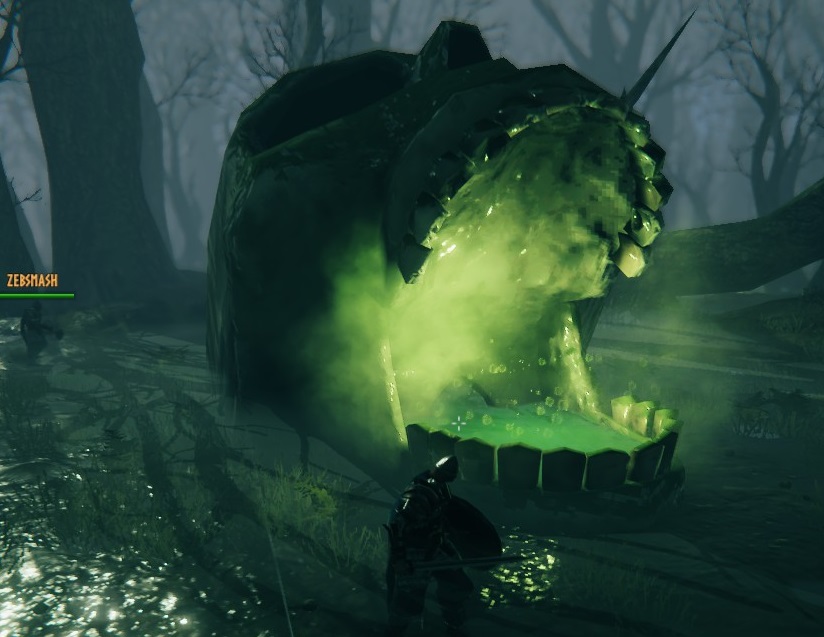 Bonemass was fairly manageable as a boss. I'm not sure if there were any tricks to him other than to keep a poison resistance potion up at all times. That, and constantly being wet, were the two things that hindered the fight – especially since you can't use a new potion until your current potion wears off.
There was a point where we each had to take a step back from the fight to wait for the potion counter to time out before using a new potion. With the amount of poising flying around and the adds Bonemass summoned, I think it would have been a lot harder solo. It was good to have someone to juggle boss aggro with throughout the fight.
Once we defeated the boss, we got a new special item…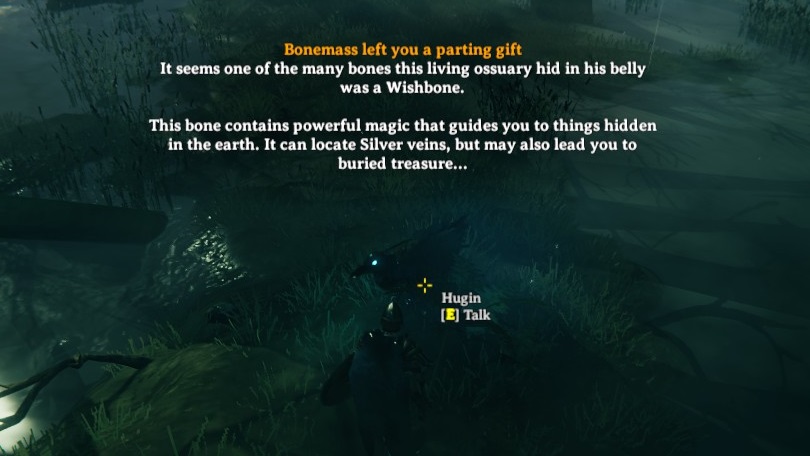 I immediately liked the idea behind the wishbone. I was also glad that Hugin gave us a lot of information about the kind of things the wishbone could find – including the next step up in crafting gear – silver.
Returning to main base, the Meadows didn't have silver to offer, but I did run across some of those treasure chests! Once I got to play with it some, I really like the treasure hunting aspect of the wishbone just as much as I thought I would.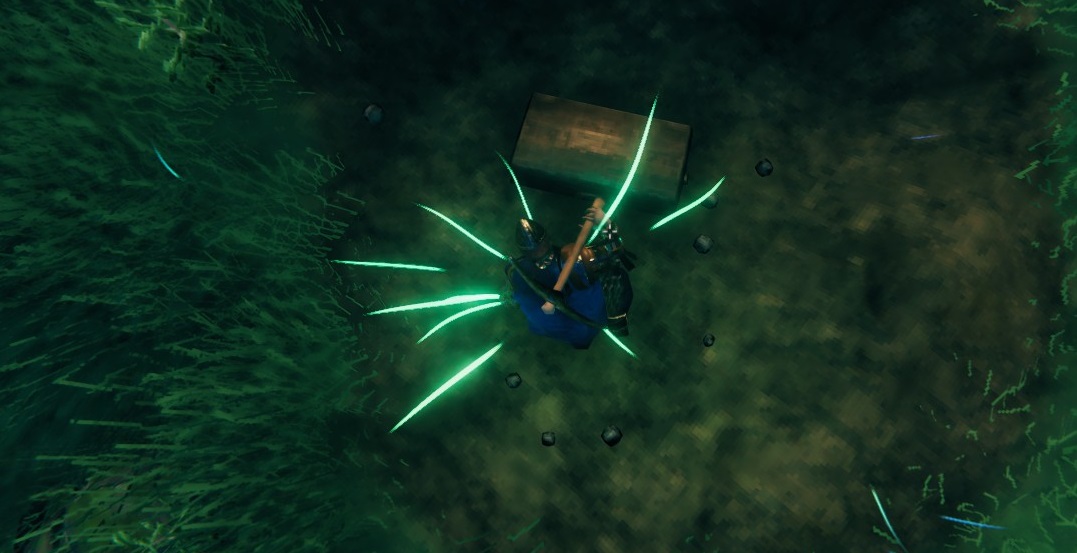 Meanwhile, back on the farming side of our base, Syn found and lead a two star boar into our tamed pig pens. Taming this boar would allow us to start breeding two star stock into our current one star boars.
She was also hard at work with the turnip crops – expanding our harvest from the few starting seeds to hundreds of turnips! The meat from the boars combined with the turnips make for fantastic stew that has become a staple of our food source, along with sausages.
We were already very self sufficient – and even able to fight off the troll invasion that rolled down on our base – but increasing the quality of boar stock could only make it better.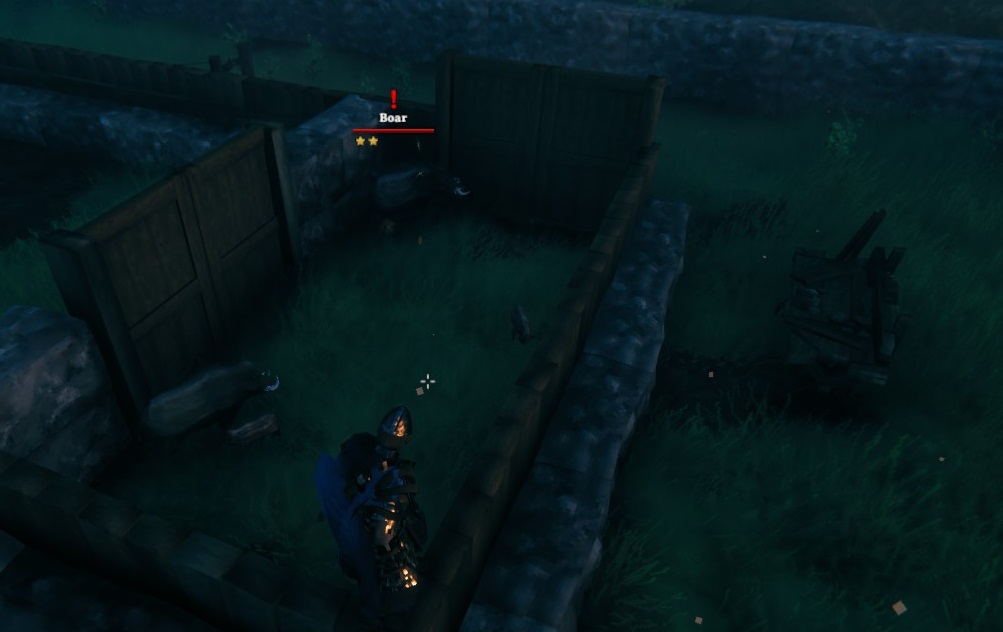 The next step in game progression was to head into the mountains. We knew from past experience that walking into the biome started to freeze you. But we also knew that there were frost resistance potions to make.
Armed with our potions and our wishbones, we were more than ready to leave the swamps behind.