I'm writing this post as a cautionary tale. Don't make the same mistake I did.
I put my trust into a deepfake app called Wombo.ai. It's a fun little app that I use to make short videos of my FFXIV character screenshots singing all sorts of funny songs. Then I posted them on social media to make other folks laugh. That's it. That's all I used it for.
Are some of these songs copyrighted? Sure, of course. But seeing that Wombo has a paid option for its app, it encourages sharing the videos you make, and it even retweets and shares its own videos on its Twitter, I thought they had some kind of agreement with the companies that owned the music clips it uses. I thought it was safe to post.
This turns out to be wrong… at least when it comes to Sony Music Entertainment.
I woke up to find my Twitter account locked and an email that notified me of a DMCA takedown notice that Sony had served Twitter. Apparently, the 21 second clip I posted of a FFXIV character singing Girls Just Want to Have Fun was a big no-no. Not only that, but I saw a very long list of additional users at the end of the email who were also getting slapped for posting Wombos that included this song and one other song.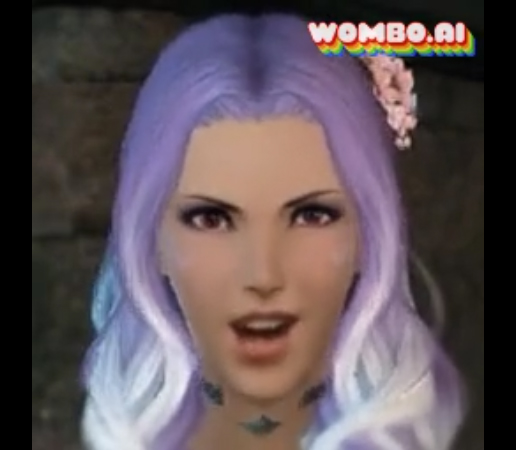 Not the video, just a screen of it
So what's up with that? There's a big WOMBO.AI badge on the video to let Sony know where this originated. I just checked, and the song is still listed in the app to create and distribute future videos. So why is Sony going after the unknowing end user and not taking this up with the company allowing the end user to create these infringements?
Apparently, I'm not the only one to have this trouble, either. I did a search and it appears that as far back as July of last month, takedown notices have been happening on Twitter for Wombo videos. What's worse, if you had several songs or several copies of videos using the same song, your account probably got hit several times.
Thankfully, I only had the one. I didn't contest it – how could I? – but this sure puts a sour taste in my mouth for using an app I once enjoyed.
As to not get in further trouble, I went through and deleted all my Wombo posts on Twitter and on Tumblr. I had written a post about how much fun I was having with Wombo here on this blog, and I deleted that, too.
I also went ahead and took down other posts with music videos from my Twitter because now I just don't know what could get me in trouble. This has me fairly antsy, especially since I was just celebrating hitting a big milestone in the growth of my Twitter account this week!
I couldn't find much on my searches about the situation, so I'm writing this blog post to warn folks. You might think it's safe to post funny meme songs from an app, but apparently it's not. I did get my account unlocked after agreeing to adhere to Twitter's copyright policies, but it was a rude awakening. Enough of these dings on someone's account can get it suspended for good.
The takeaway: If you're using Wombo.ai, be careful what you post and where you share it. This girl honestly just wanted to have fun. 🙁
The Email from Twitter
This is what a takedown email from Twitter looks like: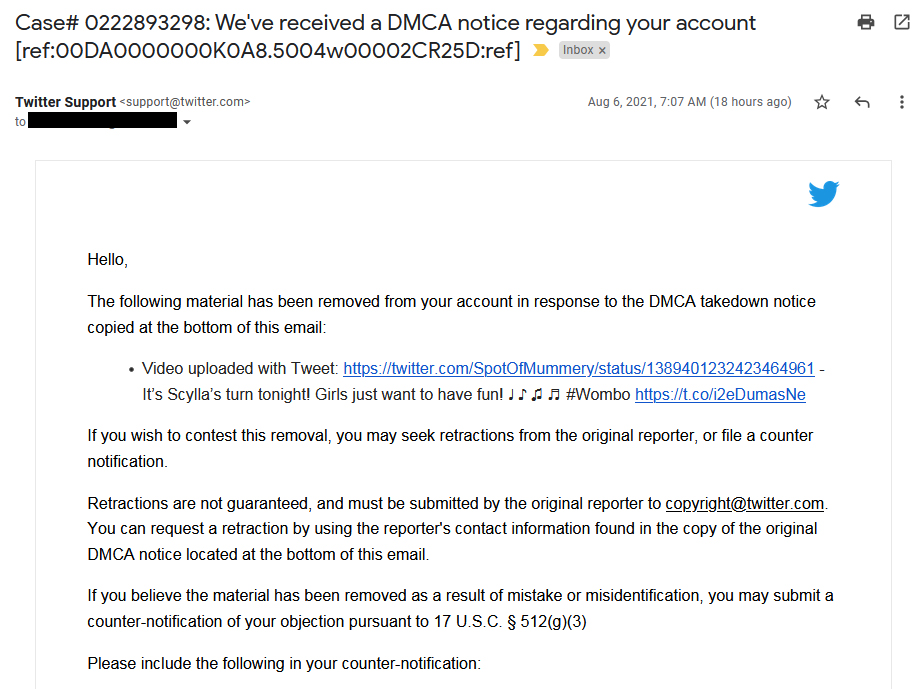 The rest of the content from Twitter was how to contest this. Which, in my case, was pointless.
Here's the original takedown notice that was attached to the bottom of the email from Twitter.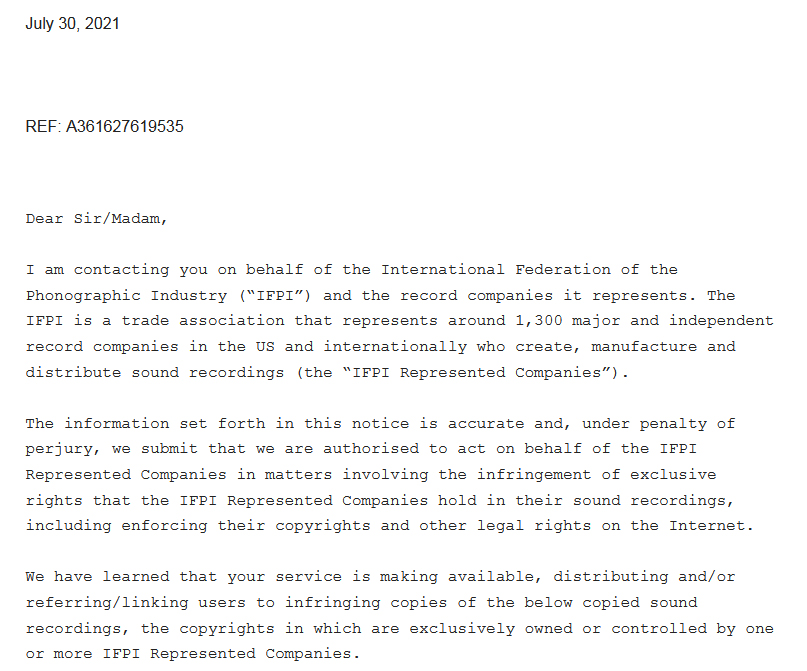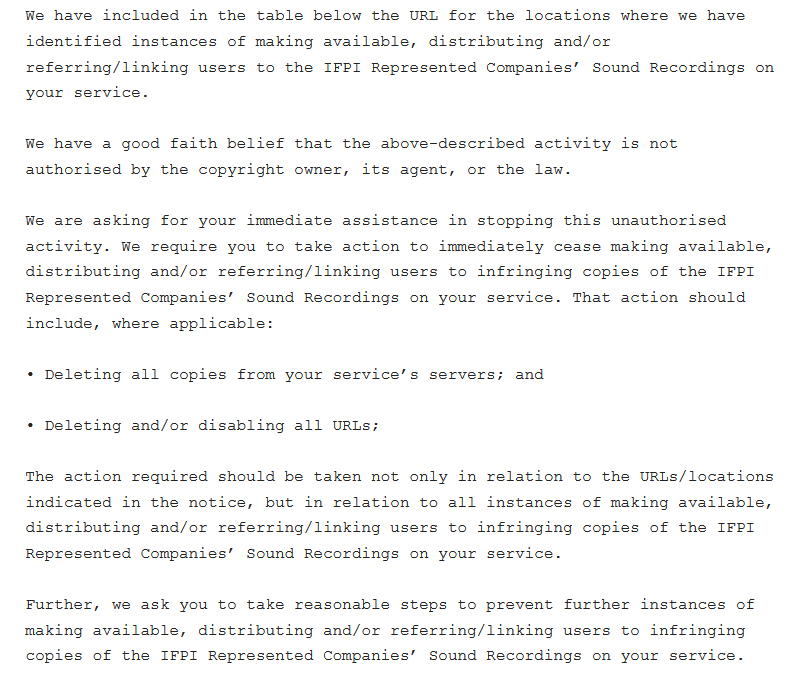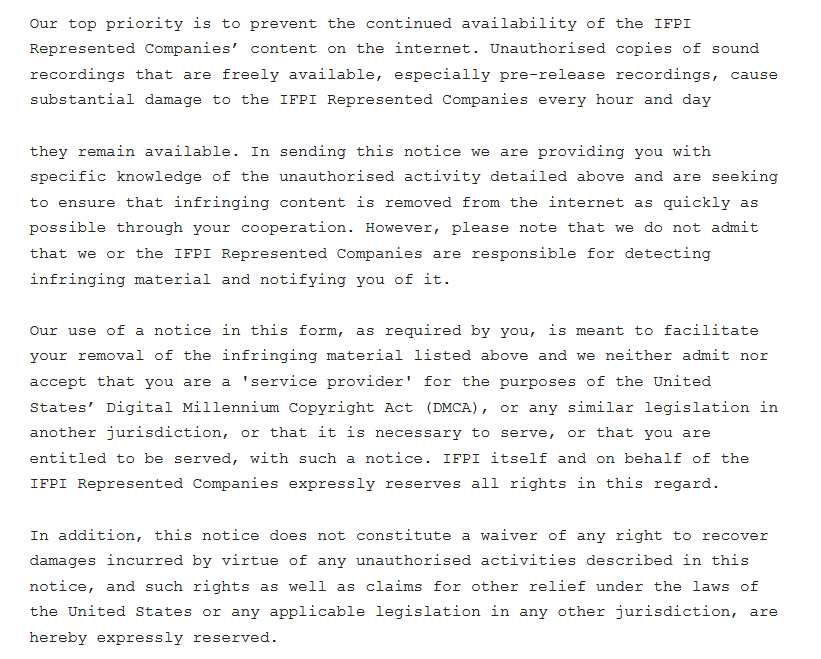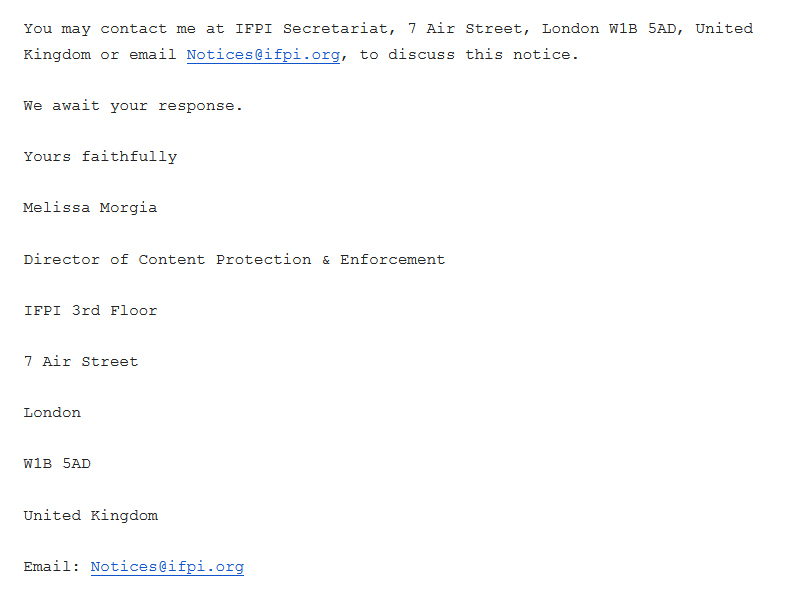 Following this was a list of URLs to the tweets with the offending content. I did check some of these accounts and they had the video clip removed from the tweet or the tweet was already gone, removed by the user (like I did).
So there you go. That's what it looks like when you get a Twitter takedown notice. Not a fun thing to wake up to.