You can think of WordPress Reader as a cross between an RSS reader with a touch of social media vibes to it. If you own a blog hosted on WordPress.com then your blog is automatically connected to Reader, which helps to boost your posts to other WordPress bloggers (as long as you tag them properly).
You can even add RSS feeds and YouTube feeds (I've checked this!) to Reader, making it a great stream of content similar to an old skool RSS reader. You can not only follow other bloggers, but follow tags that you're interested in, giving you access to new blogs that have similar interests.
I personally think that Reader is absolutely brilliant – all the usefulness of a RSS reader, the ability to Like and comment on other bloggers' posts, and none of the drama that springs up around a social media site.
So why is it that I feel like Reader is extremely underutilized?
I might be wrong, but sometimes it seems like the users who make the most of Reader are bot accounts and those marketing blogs that follow you hoping that you'll follow back. If this is the case, then that's a shame because it's a great system to help get your blog more traffic – but only if the community adopts it as a whole.
When I was making the choice between whether to make my secondary blog a WordPress.com blog vs. a WordPress.org blog, the major reason I chose WordPress.com was due to the exposure that Reader brings. Without the proper interest and social media presence, it can be difficult to build your first audience as a blogger. Sometimes it feels like you're just blogging into the void on a self-hosted blog.
Reader helps with that – again, as long as you're using tags on your blog posts – and can assist in getting your posts out there in front of other bloggers who are interested in the same topics. In fact, Reader accounts for quite a bit of this blog's traffic so far. Here's a look at my referrals since January: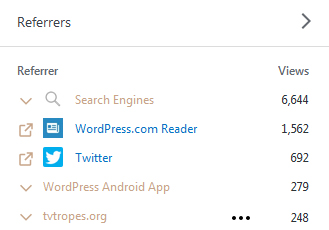 This is a newer blog that has only been out there since December.
My top referrer is (thankfully) search engines, but that's because I got a little lucky by writing a couple of posts that the search engines picked up on. But my second and fourth highest referrers are Reader and the WordPress app. Now, I'm going to guess that the app usage has to do with those who have followed my blog or are finding it through discovery – both related to Reader. So I'm going to lump them together.
That's a pretty good chunk of my traffic that I wouldn't have otherwise had without Reader.
About Reader
If you're not familiar with Reader, when you log into your WordPress.com blog, you'll find a button in the top left of the WP menu bar.

Clicking it will take you to the newest posts of the sites and blogs you've followed. Here you can like the posts, click to read the posts and even comment on the posts.
Looking at the menu, you can see there's a lot more to Reader than just this.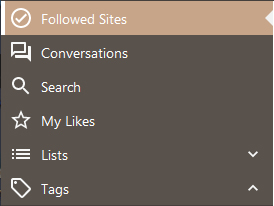 Conversations show you comment threads on posts written by bloggers you follow and encourages you to add your own comments.
Search lets you search all of Reader based on topic or tag. From there, you can find new blogs based around that topic that you can follow.
My Likes shows a list of posts that you've liked in the past.
Lists – I haven't messed with this yet, but now that I've looked at it, I could find a use for it. I'm guessing this allows you to group blogs and sites that you follow into lists.
Tags allows you to add tags (topics) that you're interested in following. Anytime a blog tags a post with those words, you can see it here. Sorta like using a hashtag in Twitter.
This is so very important, but I often feel so many bloggers just overlook tagging their posts, and miss out on the exposure that Reader can give them! So much so, I plan on writing another post all around tags and the importance of tagging and following tags.
Following Blogs and Sites
An important part of Reader is following blogs. Doing this for WordPress blogs is super easy. As long as you're logged into WordPress, you'll see something like this on another WordPress blog, usually in the bottom right corner of the blog's page:

Clicking Follow adds that blog to your Followed Sites list and allows you to see when new posts come out.
You can also follow sites that are not WordPress blogs – as long as that site has some kind of RSS feed behind it.
To do that, go to Followed Sites and click the Manage button on the page.

This shows you a list of sites you follow. But you can also manually add a site here in the Search or enter URL to follow bar.

And there you go – that site will now show up in your Followed Sites tab!
Next time, I'll tackle talking about tags, following tags and the importance of properly tagging your WordPress posts so that Reader shares your posts with other Reader users.