In the last post, I talked about WordPress Reader – a feature that all blogs hosted at WordPress.com can take advantage of. Today I want to talk about how to ensure your posts are getting shared on Reader as widely as possible. It's actually very simple – it's all about tags.
Think of tags like hashtags on Twitter. These are topics that help WordPress know what your post is about. Without them, WordPress doesn't know you've written a post about "cats" or "music" or "games." This is where you come in!
How to Tag Your Post
When you create a new WordPress post, you can add tags to it in the Tags section of the right-hand menu. If you don't see this, click the gear icon in the top right corner and make sure you're looking at the Post tab. It should look something like this: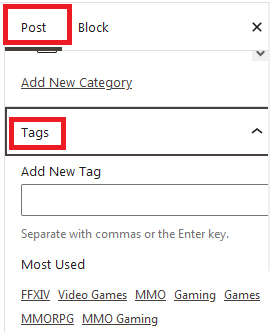 You can see that in my tags section, WordPress offers up the tags I most use – of course I use a lot more than this, but these are the ones it's determined that I add most often. This helps to speed things up, but don't only go by the suggestions or you could miss a few tags!
Now that you know where to tag, let's talk about some thoughts about tagging strategy.
Tagging Strategy
Let me walk through my thoughts on using tags. I try to go for both focused and wide topic tags for my posts.
Since I usually write about FFXIV, I'll use a normal FFXIV post as my example.
This is a FFXIV post, so I use FFXIV as a very focused tag.
FFXIV is a game, so I tag it as Games for a wider audience.
However games include board games, tabletop games, etc. So I focus that down by also adding the tag Video Games.
But there are many kinds of video games. FFXIV is a MMO/MMORPG. So I tag both MMO and MMORPG.
I add some additional tags such as Gaming, MMO Gaming, Gamer, etc. This isn't required, but it's good to explore sub-tags and related tags just to see if it helps.
If there's anything very specific within FFXIV that the post is about – maybe, say, housing – I'll add a specific tag like FFXIV Housing.
And there you have it – a pool of tags both focused and wide.
Every time you add a tag to your post, your post will appear in Reader on the tag page for that topic. Let's look at that a bit.
Explore Tag Pages
Within reader, you'll find a Tags section at the bottom of the menu.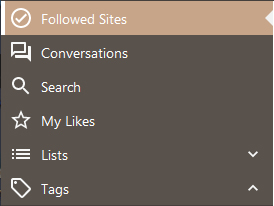 At the very bottom of the Tags section, you can enter a tag, such as "Games" to add it to your followed tags. This allows you to come back to that tag page and see all the other blogs that have used this tag in their posts (including your own).
Below is an example of the tags I follow. You can add a tag and remove a tag at any time.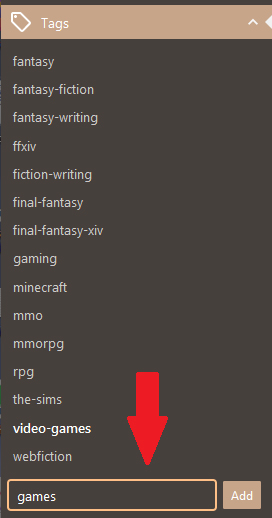 Research Your Tags
Use this tag pages to do research on the tags that you use in your own posts.
See which tags seem to have a LOT of new posts popping up frequently. Maybe those are popular tags, which could be good (because lots of people are interested in them) or bad (because your posts get lost in all the other posts).
See which tags seem to rarely have any new posts in them. This could be good (you've got a niche you can corner and explore) or bad (there isn't much of an audience for this tag on Reader).
Use this to determine which tags serve your posts the best. Feel free to explore!
Also, while you're on those tag pages, you can see who your blogging peers are and what they're writing about. Use this as an opportunity to network!
Follow other blogs who use similar tags. Leave likes and (even better) comments on their posts.
This helps to build interaction between yourself and other bloggers on Reader. This may take some time and effort on your part, but if you have a newer blog and you're looking to build an audience, connecting with other bloggers is a good place to start.
Not everyone will always respond or follow back. But some will, and you never know who might become a blogging friend from just a few comments exchanged. It's always great to encourage new bloggers that you stumble across in tags, because that makes the community as a whole stronger.
So now that you know about tagging and a bit about tagging strategy, next time you create a post, start building that list of suggested tags. It only gets easier as WordPress learns the tags you like to use the most!
Good luck!