Now that I've officially finished my Blaugust posts for this year (yay!), it's back to blogging as normal around here. I wanted to talk about something that happened on Friday of last week – I finally got Shikaree's Doublet after almost 7 and a half years of hoping for it in FFXIV.
Shikaree's set is a level 50 aiming set that came out in FFXIV Patch 2.2 – back in April of 2014. In the middle of the Darklight set drops, this looked like a shining jewel of glamour to me. Much like Amon's Hat, I set my sights on getting it.
In fact, I even blogged about it in May of 2014. It was at the end of a post talking about working on my firs Relic (which I've never finished), but I did make put my hopes to get that gear in writing.

I never had it in me to farm for it much, even though it eventually became easy to clear as the years went on. My retainers brought me back pieces of the set, and eventually I had everything except the doublet in my glamour dresser.
I'd forget about it for a stretch, but then things like dyeable version in Heavensward would pop up. It's a nice set, and I like that I can dye it. But that spring green sash that you can't dye for the aiming set made it hard to use much variation in dye colors.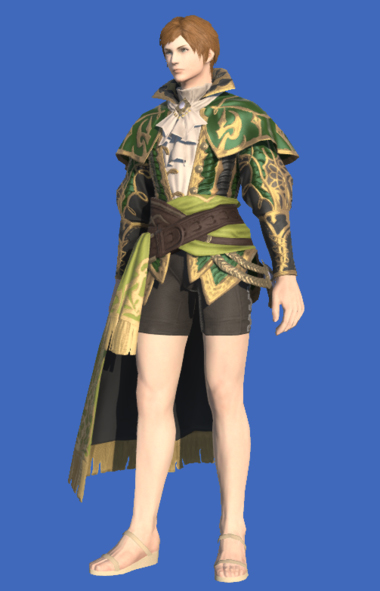 The casting and healing sets came out a little better, but still have some undyable parts that are either stark red or bright green. So while options were out there, I preferred the lovely blue and white of the original doublet.
I got reminded of the doublet yet again when retainers brought it back to an alt of mine who doesn't main an aiming class. I lamented the irony and decided it was finally time to farm for it.
My choice of farming was Halitali HM. At level 80 unsynced, I could run it in less than 5 minutes as a Red Mage. The doublet drops off the final boss – but has a 1 in 8 chance. For some reason, this boss fight even drops two belts – not for much longer though!

Luck was against me as I farmed the dungeon somewhat casually every now and then. I did even put it on my list of things to do before Endwalker drops.
I'd forget about farming it for a while when I failed to earn the drop repeatedly. Then something would bring the topic back up again.
This happened last week when I remembered it while chatting with my FC about glamour. That Friday, I decided to run the dungeon a few times, and sure enough, on my fourth try of the night, the doublet dropped!
Having the full set, I quickly kitted out Ben's aiming glamour. My hope for the full Shikaree set has now been realized!