This weekend, we updated Valheim and explored a little bit about the new Hearth and Home patch. We didn't get to test out the changes to battle yet because most of our focus was getting crafting stations updated, specifically the cauldron.
I know there was a bunch of unhappy feedback about this patch initially and I also know that the team has already hotfixed the game to respond to this feedback. I expect there will be continued tweaks in the long run, but props to them for making quick fixes where they're needed.
I am a little worried because I'm hearing the game is harder than it was before. We were just finding our stride in defeating fulings and had yet to beat the last boss, so it was at an agreeable difficulty, at least for us, before the patch.
Amoon also joined us for the first time in a while, so we helped to get him up to date on his gear. Thankfully, we had enough resources stashed away to create almost a full set of padded gear for him, though we need a bit more to get it all upgraded.
The most exciting item I explored is the Incinerator! Finally, we have a way to destroy unwanted items! And boy did we have a lot of them.
While Valheim Plus does allow items to eventually disappear after a while, we still had a little fenced-in part of our base where we basically just chucked unwanted trophies and other things into it while we awaited removal.
This is so, so much better! It only requires one cheap item from the merchant. Though I suggest that you put it well away from other objects unless you want the process of incineration to damage everything around it… (learned this the hard way).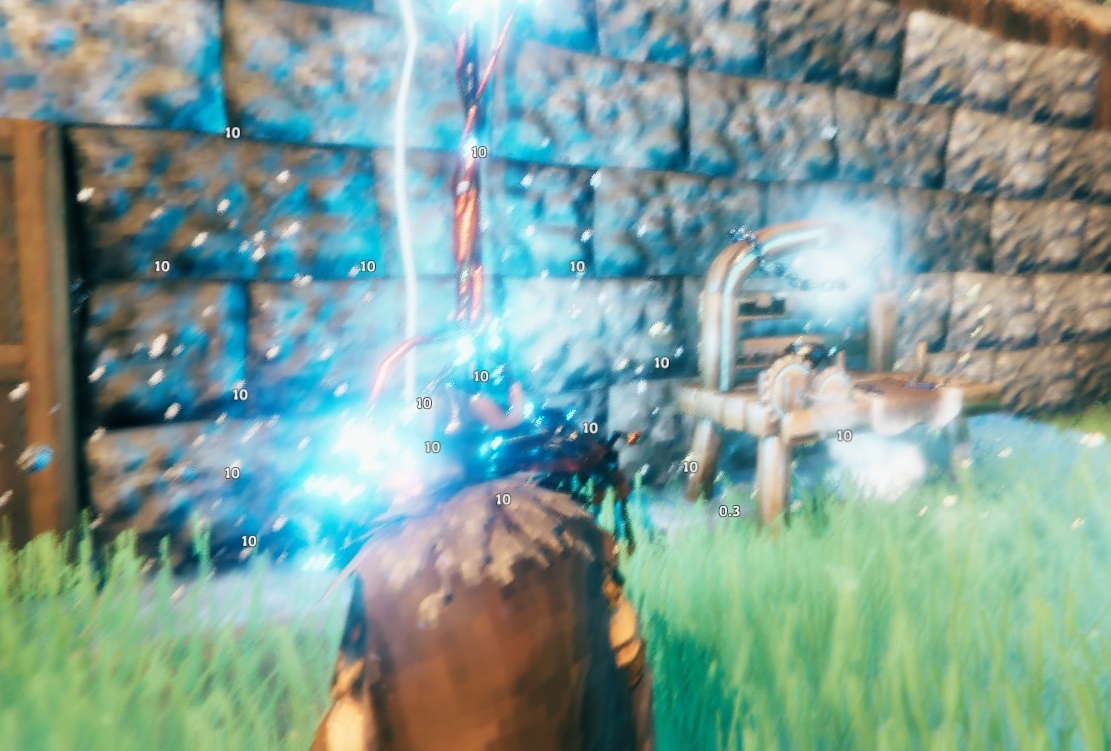 Thor apparently bestows upon you a gift for offering up stuff in the Incinerator, though it's not as glamourous as you might be hoping. Still, what you get is far more useful than what you put in. 😉
The cauldron also now has several upgrades it didn't have before, and these upgrades gate the types of food that you can make. For example, you can't make fish wraps unless you have a higher level cauldron. Things like pots and pans, butcher blocks and spice racks need to be placed near the cauldron, much like upgrades to workbenches.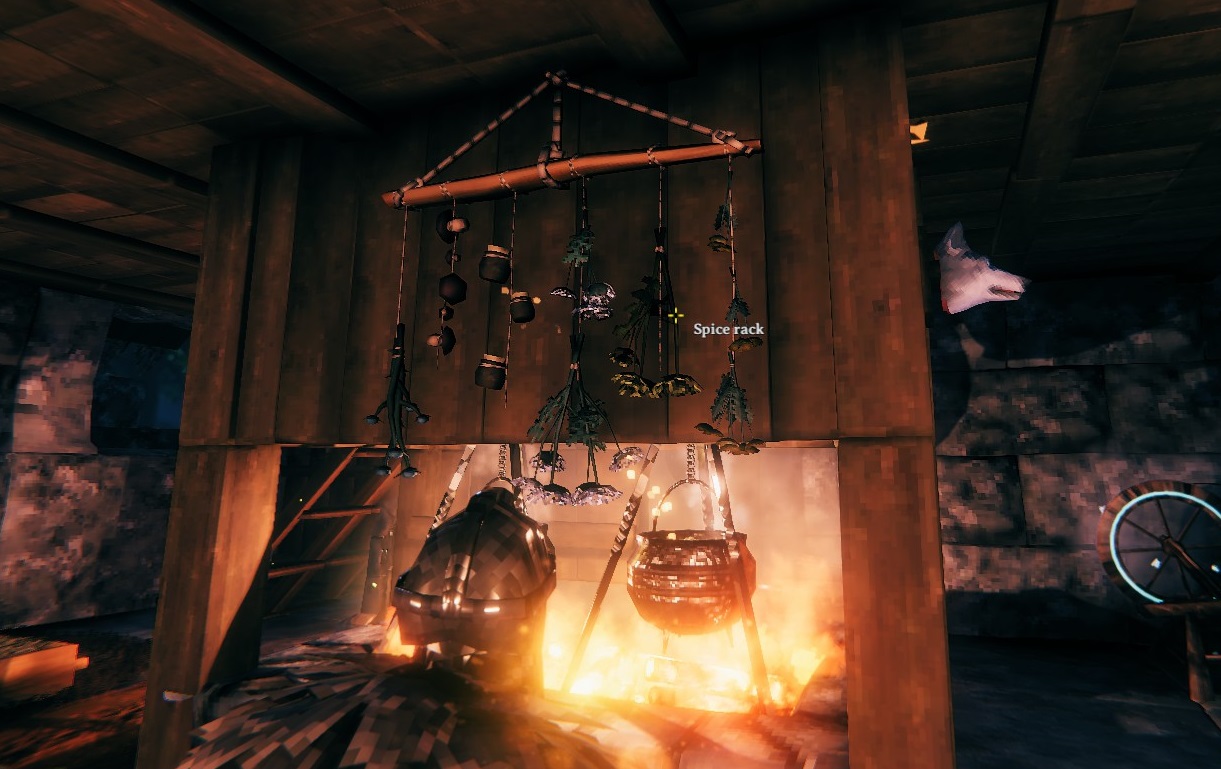 We messed around with the food stats and tried to find foods that would balance health and stamina. I'm not a huge fan of how they broke things out because fighting doesn't just need health but the stamina to fight.
I know they've patched food to make it better, but stamina has always been a pet peeve of mine in Valheim. I do think that there needs to be a limitation on what you can do in the game, but even leveling up and using a slight boost from Valheim Plus, stamina depletes far more quickly than I feel it should. It makes the game more frustrating than challenging, IMHO.
Anyhow.
Complexity of making food has expanded. You have to have a special type of rack to cook certain meats now. And if you want to bake anything – such as pie or bread – you now have to make the pie at the cauldron, then bake it in the new oven to complete it.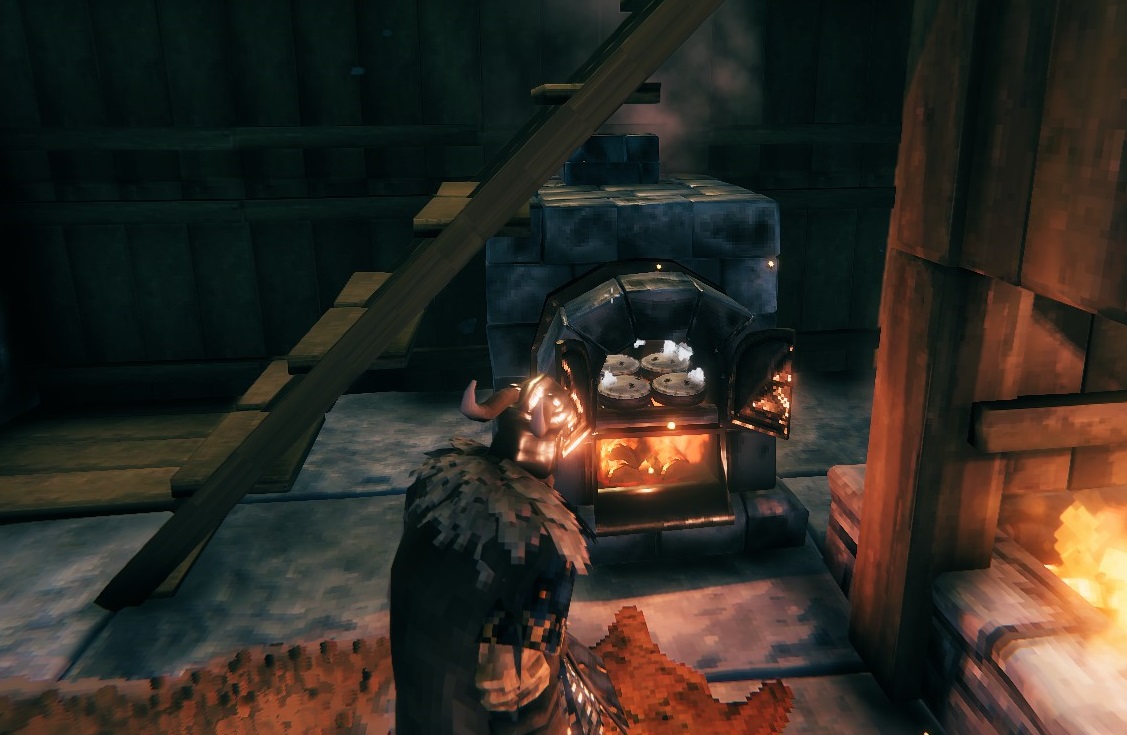 I'm not sure how I feel about having an extra step just for baked goods, though it makes it more realistic than baking a pie in a cauldron. Also, it's fun to watch the pie baking, and see how the pies fly out when you retrieve them once they're done.
On the downside, I'm not sure if this means you can burn the baked items… which given the resources that go into making a pie, would be a bummer.
We haven't looked into the new housing building pieces yet. But I am glad to finally be able to plant birch trees now. Fine lumber was becoming more scarce before this.
I'm sure there were other things I noticed about the update and haven't talked about yet here. For now, I'm going to reserve my final judgement until we get out on the plains and see how our weapons and shields work against a fuling camp.